Paul Yaffe's Bagger Nation, custom auto auctioneers Russo and Steele and the Arizona Coyotes Foundation teamed up to benefit the Boys and Girls Clubs of Metro Phoenix, and the partnership just paid off big. A one-off Arizona-Coyotes-themed custom motorcycle commissioned by the ACF and created by Paul Yaffe sold at the Russo and Steele auction on Sunday for $80,000. 100% of the sale price has been donated to the Boys and Girls Clubs of Metro Phoenix.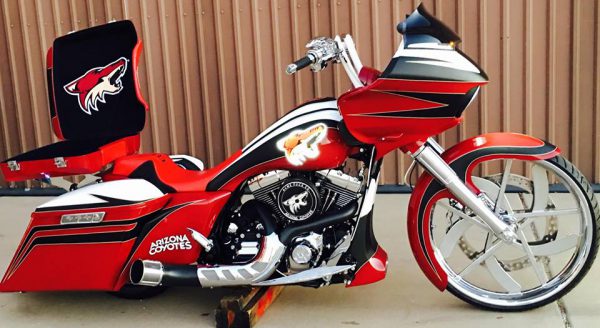 "It's always an honor when I'm asked to do a custom build for a great cause," says Paul Yaffe. "The Phoenix Boys and Girls Clubs do fantastic work, so I'm happy I can help raise some much-needed funds."
Built on a 2015 Harley-Davidson Road Glide chassis, the Coyotes custom features a 103-inch twin cam engine, 6-speed transmission, ABS brakes, cruise control and a navigation system. The bike is tricked out in the NHL team's color scheme, and other custom features include a Razorback stretched tank adorned with remote-operated LED backlit Coyotes logos; a detachable Wail Tail Tour Pak with Coyotes-head logos on the backrest and interior; a one-off Coyotes jersey custom seat; and a 26-inch "hockey stick" front wheel with matching 18-inch brake disc.
The Coyotes bike joins the ranks of other notable projects Paul's been commissioned to do, including the Arizona Centennial Copper Chopper, which served as the official mascot for the state's 100th birthday, and Slugger, a bike commissioned by the Arizona Diamondbacks that was displayed during the 2001 World Series.