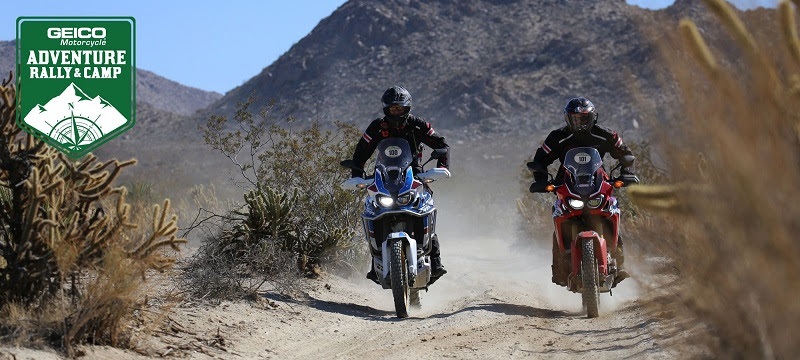 Adventure Rally and Camp Returns to Stagecoach Trails Resort, November 7-10
Early Bird Registration runs through May 31
April 9, 2019, Irvine, CA — The Motorcycle Adventure Rally & Camp returns to Southern California for the second straight year at Stagecoach Trails Resort in Julian, Calif., November 7-10. The format continues to expand and evolve from past Adventure Rally Sierra and Rockies Editions, creating even more opportunities to discover diverse riding, in a location just waiting to be discovered on adventure motorcycles.
Early bird registration is currently underway through May 31, with participants able to save money. To register online, visit www.advrally.com.
The Adventure Rally features over 100+ points of interest to find in an over 200-mile radius from base camp, spread across a vast terrain of mountains, valleys, deserts, and more! A variety of new exciting points of interest will be part of the event this year.
Participants can ride one, two, or all three days of the event. Top point collectors will be honored each day as well as the team that collects the most points overall for all three days.
A variety of camping options will be offered again this year. >From tents to RVs to on-site cabins, all are available at the Stagecoach Trails Base Camp (stagecoachtrails.com). For those not wanting to camp, just 12 miles up the road in Julian, Calif., plenty of lodging choices are available.
Expanded food offerings are in place—including a 4-day food option with a unique menu offered each of the four days. Also, food can be purchased from Daddy's Famous Food Truck. The option for participants to bring their own food is also available again this year. In addition, an increased vendor area will be on-site.
These combinations lead to more riding and overnight choices and opportunities, more exciting happenings at base camp, and additional adventure.
Riders of all skill levels are welcome. All off-road-capable, street-legal motorcycles are welcome.
For more information on the Motorcycle Adventure Rally & Camp and to register, visit www.advrally.com.
The Adventure Rally is made possible by GEICO Motorcycle and Statecoach Trails.
About Adventure Rally
The Adventure Rally is a multi-day challenge for any skill-level rider and their machine. By day, self-navigated scenic trails are completed in search of elusive checkpoints. At night, competitors spend time together, along with staff from Cycle World, Motorcyclist, and Dirt Rider and other industry guests. Each team will participate on the trails as well as in special tests. The special tests are conducted at the Stagecoach Trails Base Camp and are designed to improve the adventure skills of participants.