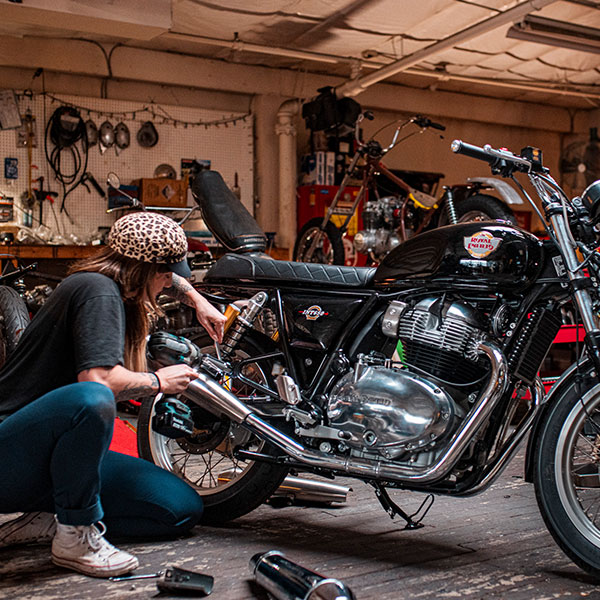 CALLING ALL FEMALE RIDERS!
We're back for another round and expanding the Build. Train. Race Program into the world of Road Racing! We're ready to hit the asphalt and bring a whole new crew of women road racers to the sport. If you're a female who is interested in learning how to road race and willing to give 100% commitment, this is for you!
Think you have what it takes? We want to hear from you!
Royal Enfield North America announced today its phase two of the BUILD TRAIN RACE (BTR) program which will now seek out female motorcyclists to go road racing with the Royal Enfield Continental GT 650. Similar to the flat track BUILD TRAIN RACE four women will be handpicked by Royal Enfield for this iteration of the program through a video selection process. Women interested in the program must submit a video questionnaire here to be considered.
Professional Road Racer and current BTR Flat Track Participant Melissa Paris has agreed to mentor the women during every phase of the program. She will work with each participant on creating a design for their builds, building sponsorship decks, and training off and on the track.
"Building upon the success of the initial BUILD TRAIN RACE program, we decided to carry the momentum into the road racing segment, " said Royal Enfield Americas Head of Marketing Breeann Poland. "This is a unique opportunity for women interested in getting into road racing and to make a name for themselves in a national racing program. Working with a world class racer like Melissa Paris is not an opportunity that comes along often. The ladies will also be some of the first people to road race the Continental GT 650 platform, so the motorcycling world will be watching."
The participants will be chosen by a panel of judges which includes Breeann Poland, Head of Marketing – Americas, veteran road racer and flat track BTR participant Melissa Paris and accomplished racer and journalist Anne Roberts. The selected participants will then have several months and a small budget to convert a Continental GT 650 Twin into road racing trim. Paris will provide valuable insights during the build process.