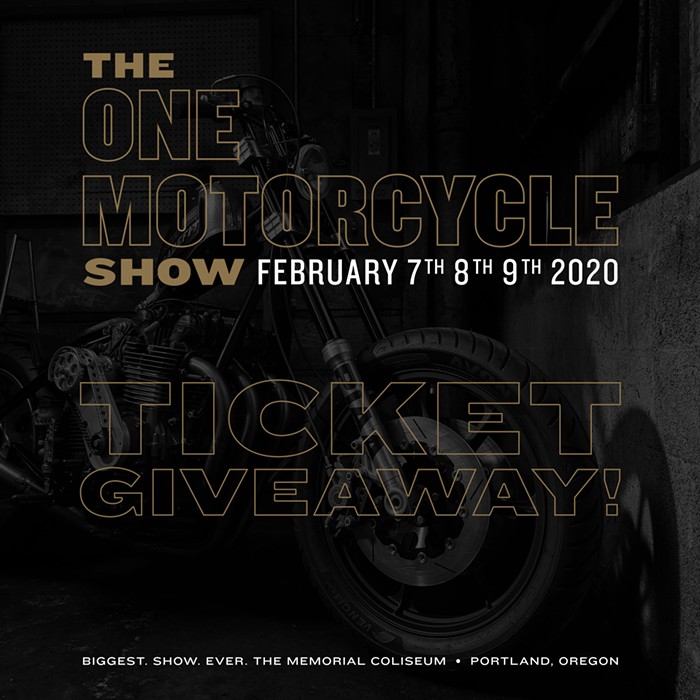 by Wm. Steven Humphrey from https://www.portlandmercury.com/
If you love motorcycles, then the annual One Motorcycle Show is the cultural event of the season! Experience hundreds of the hottest rare, custom-built motorcycles designed by master crafters from across America (and of course, here in the PNW). Oh, but that's not all! Along with delicious brews, coffee, food, live bands (including Hot Snakes, Thunderpussy, Red Fang, and more), and loads of motorcycle inspired art, this beloved show has also moved to Veterans Memorial Coliseum—which means what? That the famous dirt track races which were previously held in Salem will now join the rest of the show under one huge roof! Oh dear god… can you stand that much motorcycle fun?
This awesome show goes down Fri Feb 7-Sun Feb 9, with indoor dirt track racing on Sat Feb 8, all at Veterans Memorial Coliseum. For times and tickets, hit up the website. OR if you're feeling lucky enter to WIN TWO FREE WEEKEND PASSES to the show with the widget thingy below—but HURRY. Deadline for entry is February 3 at noon!
Enter to win TWO weekend passes to The One Moto Show!
10,000 beers • 5,000 high-fives • 200+ bikes • 5 bands • 70 vendors • 20 partners
15 race classes • All under ONE roof!
The One Motorcycle Show is an inclusive showcase crafted to celebrate weird, rare, custom, classic and unconventional bikes in a way that everyone can enjoy, whether they ride or not. Started with the impulsive idea to bring together a small community of enthusiasts in underground venues of Portland, the One Show has expanded to an improbably massive event that is emulated around the country and admired around the globe.
The One Motorcycle Show
February 7th 8th 9th 2020