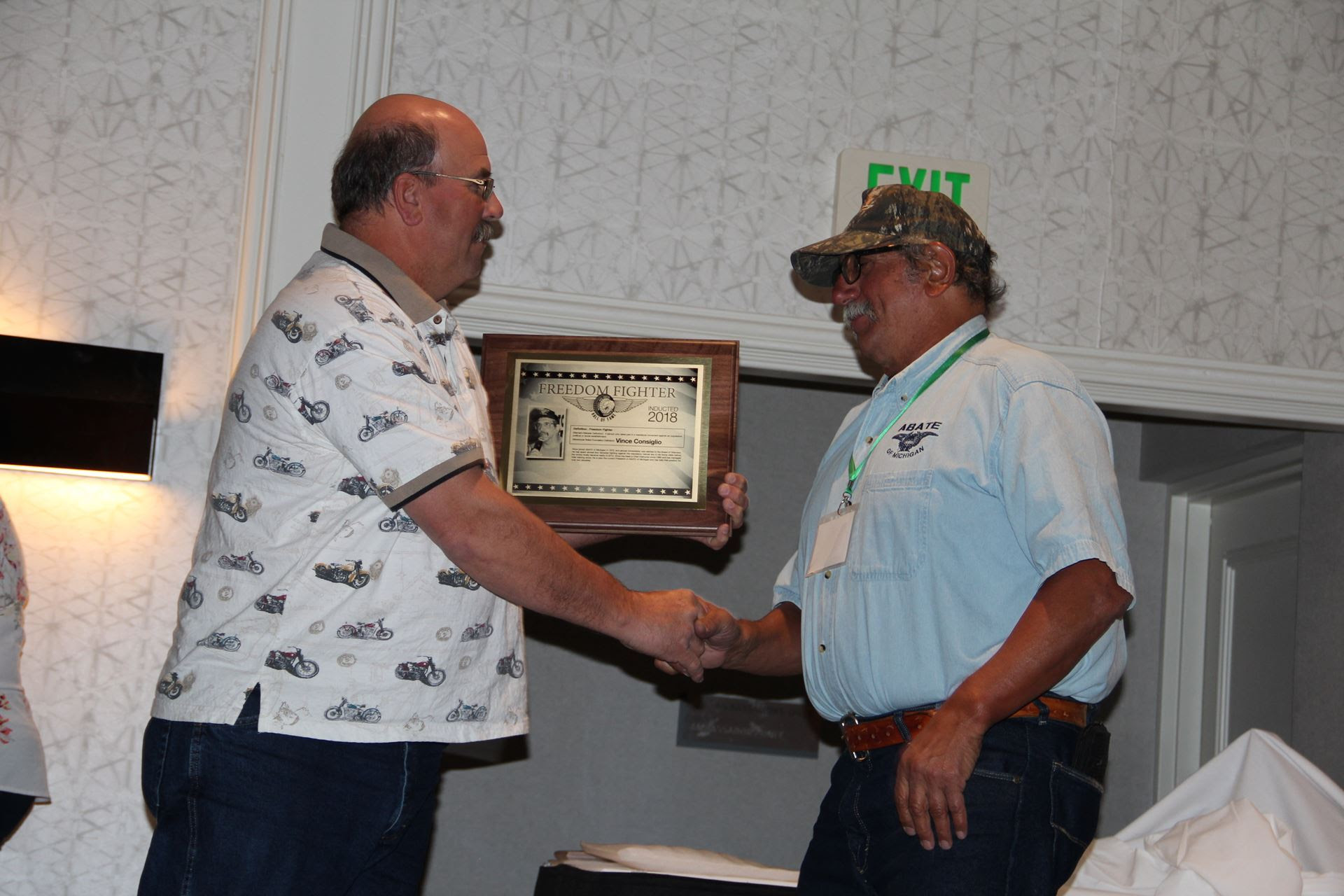 The Motorcycle Riders Foundation would like to Congratulate Vince Consiglio of Michigan on his nomination and soon to be induction into the Sturgis Motorcycle Museum Freedom Fighters Hall of Fame. Each year, the Sturgis Motorcycle Museum & Hall of Fame recognizes individuals or groups who have made a long-term, positive impact on the motorcycling community.
Vince joined ABATE of Michigan in 1975, and almost immediately was elected to the Board of Directors. He had spent almost four decades fighting against the mandatory helmet law in his home state before the victory finally became a reality in 2012. Vince has been a Chief Instructor since 1980 and has managed rider training ever since. He is also the current President of ABATE of Michigan and has held that position for over two decades.
There is no one in the motorcyclists rights movement that has held the title of State President for 25 years, managed rider education for nearly 40 years all while battling a mandatory helmet law for nearly 40 years.
Vince is also a constant presence representing the motorcyclists of Michigan in our Nations' Capitol working closely with the Motorcycle Riders Foundation. ABATE of Michigan under Vince's leadership has fostered effective working relationships with numerous members of Congress. Many of the federal bills brought forth on behalf of the motorcyclists of this nation were sponsored and co-sponsored by members of Congress from Michigan who were designated as Legislative Champions by the Motorcycle Riders Foundation.
Vince has been recognized with a Lifetime Achievement Award from the Motorcycle Riders Foundation as well as having been inducted into the Motorcycle Riders Foundation Hall of Fame in 2018.
Other Sturgis Motorcycle Museum & Hall of Fame 2019 Inductees are: Frank Fritz, Jill Parham, Ron Paugh, Danny Fitzmaurice, Ron Finch, Terry Rymer, Gloria Struck and Lonnie Isam Jr 'in memoriam'.
If you are planning on traveling to Sturgis for the 2019 Rally, consider joining the strong contingent of Motorcycle Rider Foundation members that will be in attendance at the Induction breakfast and ceremony on Wednesday August 7th at The Lodge at Deadwood.
Tickets are available here: https://www.sturgismuseum.com/hof