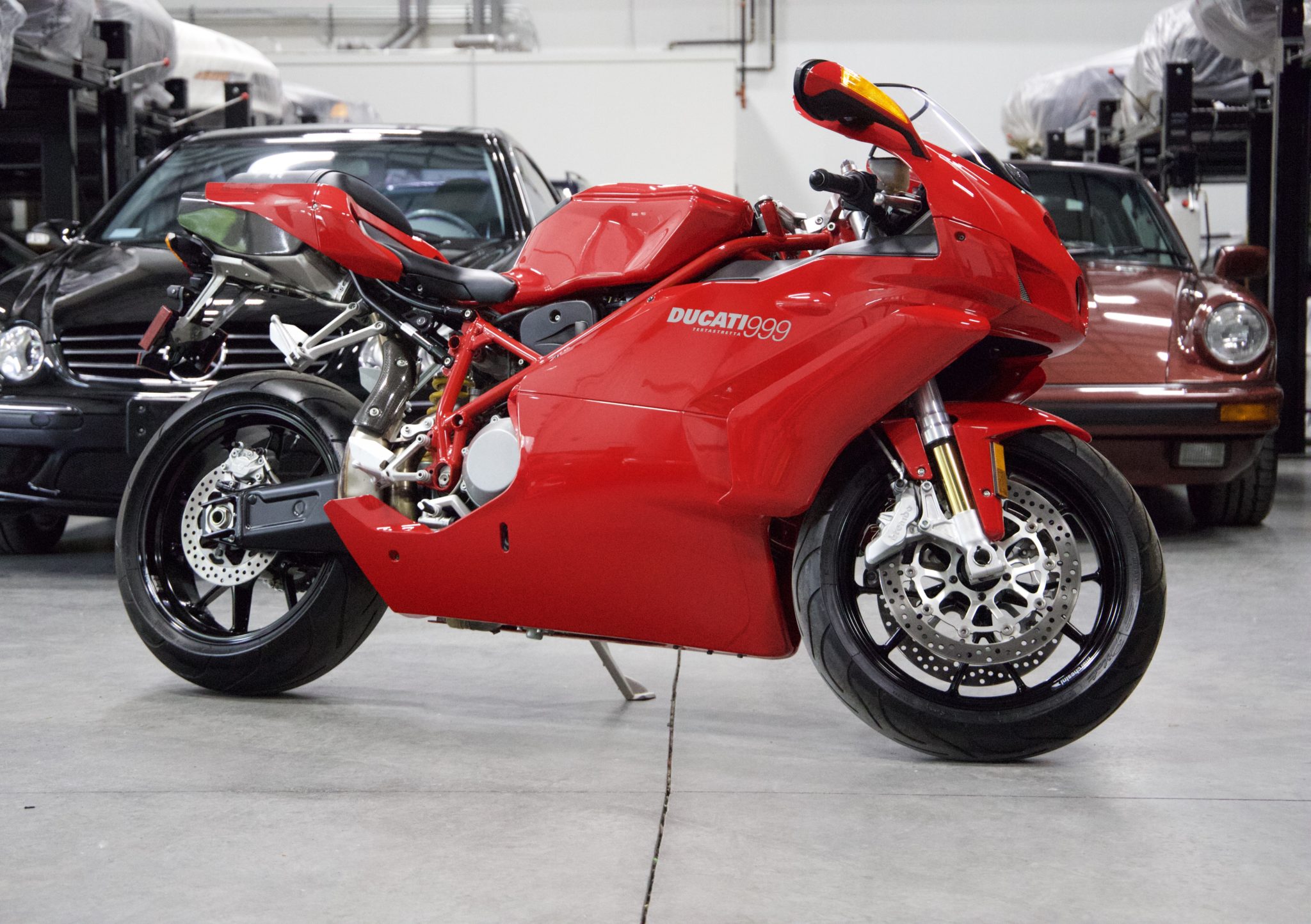 by Mircea Panait from https://www.autoevolution.com
With 17 manufacturer titles since the Superbike World Championship rolled out in 1988, Ducati is the undisputed leader of the two-wheeled series. Kawasaki, Honda, and Aprilia trail behind the Italian manufacturer with 5, 4, and 4 titles, respectively.
The 999 is one of those championship-winning superbikes, taking the overall victory in 2003 with Neil Hodgson, 2004 with James Toseland, and 2006 with Tryo Bayliss. Produced from 2003 to 2006 and succeeded by the 1098, the Triple Nine relies on a Testastretta Desmodromic V-twin engine displacing 1.0 liter.
Often criticized over its looks, the Nine-Nine-Niner is widely regarded as one of the best-handling motorcycles of its era by enthusiasts and pro alike. The 998-cc version in the gallery cranks out close to 140 horsepower and 80 pound-feet (109 Nm), adequate figures for a dry weight of 186 kilograms (410 pounds).
Chassis number ZDM1UB5V75B012140 retailed at $17,995 before options when it was new, but this fellow here is offered at no reserve with six days left for bidding on Bring a Trailer. The highest bid at the present moment is $2,105, which is peanuts for a 700-mile (1,127 kilometers) survivor in such great shape.
In preparation for the sale, the vendor has replaced the battery, oil, oil filter, as well as the brake fluid. Acquired from the original owner in early 2020, the Italian superbike is wearing Ducati Red paintwork and a Termignoni exhaust.
Offered in New York with a clean title, the motorcycle retains the original carbon-fiber heat shield under the rear seat, rear plate bracket, and rear footpegs. 17-inch alloys are wrapped in Michelin rubber boots, and braking power comes courtesy of 320-mm and 245-mm discs with four- and two-piston calipers, respectively.
Once described as "the best V-twin on the planet," the road-going version of the 999 is an in-your-face reminder about Italian manufacturer's on-track dominance in the Superbike World Championship. From 1988 to 2019, Ducati Corse took no fewer than 357 race wins compared to Kawasaki's 138 and Honda's 119.