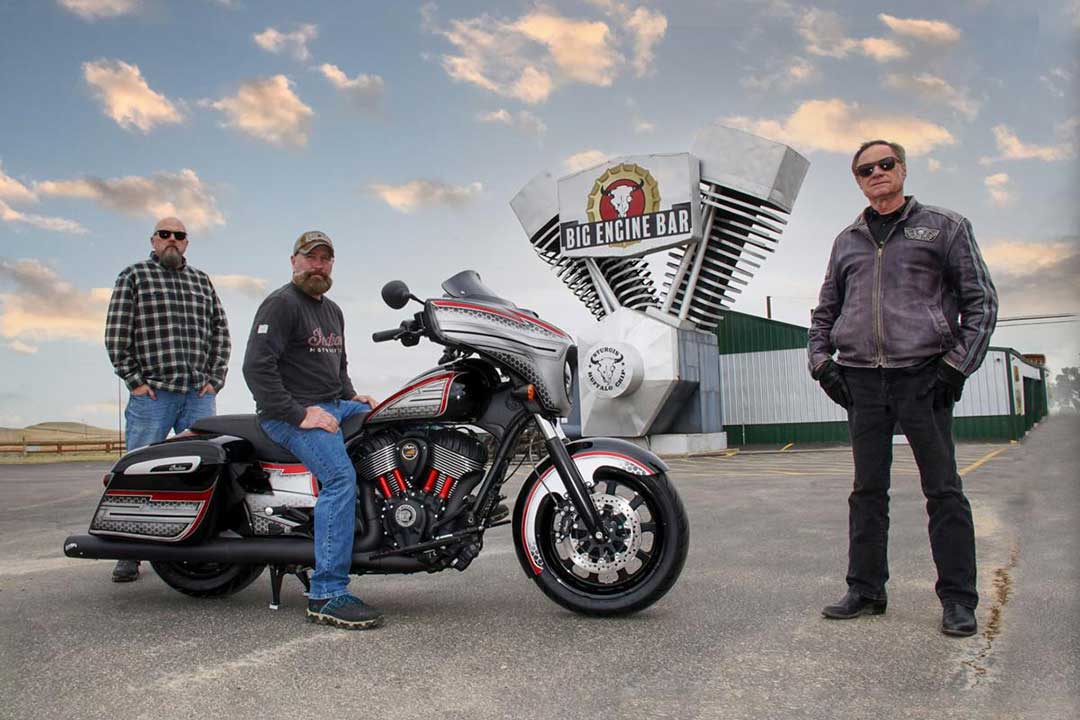 by Savannah Rose from https://rapidcityjournal.com
The Sturgis Buffalo Chip has long been known as the place to be at the Sturgis Rally. Whether you're spending your day riding through the beautiful hills of South Dakota on one of the venue's signature rides, or you're enjoying an ice-cold drink while checking out the bike shows and the iconic live music, the legendary Buffalo Chip has everything you need to make your rally one for the books. Literally everything. You can now even ride off on your own Sturgis Buffalo Chip signature motorcycle.
The Chip crew has teamed up with two renowned builders in the performance realm, Tim Sutherland and Lloyd Greer of Indian Motorcycle Charlotte and Lloyd'z Garage, who are recognized internationally for their design and performance work on Indian Motorcycles. The result is the Buffalo Chip B4 Signature Series.
Each exclusive, signature build starts out with a stock Indian Chieftain. Then Tim and Lloyd get their hands on it and work their magic for a unique creation. The first in their B4 signature line will make its debut at The Chip's 40th consecutive festival and will be auctioned off at the Buffalo Chip Legends Ride, Aug. 9.
"Tim's and Lloyd's attention to quality and craftsmanship make these signature edition Sturgis Buffalo Chip B4s collectible from the day they are built," said Rod Woodruff, President and CEO of the Sturgis Buffalo Chip. "The bikes will no doubt be a unique and valuable way to own a piece of motorcycle history."
Now, down to the nitty-gritty…these bikes are truly built for performance. Based on Indian's flagship Chieftain model, the Sturgis Buffalo Chip signature edition B4 is loaded and ready to rip. The powertrain in this bagger, designed and built by Indian performance guru Lloyd Greer, boasts a whopping 126-inch displacement. Big bore cylinders, ported heads and big cams provide the 120 horsepower and 148-foot pounds of torque you crave in a two-wheeled machine. The Rush Racing pipe provides a deep, throaty growl to let everyone know you mean business. The Rekluse Clutch will transfer all that power to the ground, and you'll be tempted to warm up those tires in a smoke show.
Designed by legendary Indian customizer Tim Sutherland, the styling on the SBC B4 will stand out in a crowd. This bagger means business, but not black-tie business. The unique black, red and silver paint job screams that you're here to make an impression. The 18-inch wheels, handlebars and more from 1901 Customs further add to the mean stance of this motorcycle and the Arnott TruAIR shocks will keep you rollin' comfortably out on the twisty roads of the Black Hills.
Each B4 owner will be part of a very exclusive group, as there will only be a limited number produced. In addition, these owners will receive exclusive access to a variety of VIP ownership benefits, including free Chip passes, Top Shelf VIP upgrades and more.
"Owning a Sturgis Buffalo Chip Signature Edition B4 is membership into a fun, passionate, party-going family!" said Tim Sutherland. "The SBC B4 motorcycles will have you rolling into Sturgis like a king, plus all the special VIP benefits and perks that go along with it make this a once-in-a-lifetime opportunity," added Lloyd Greer.
The first in the line of SBC Signature B4 motorcycles will be on the auction block at the 2021 Legends Ride, Monday Aug. 9 in Historic Deadwood. See it for yourself this year at the new Lloyd'z Garage, located at the Buffalo Chip free-access CrossRoads.