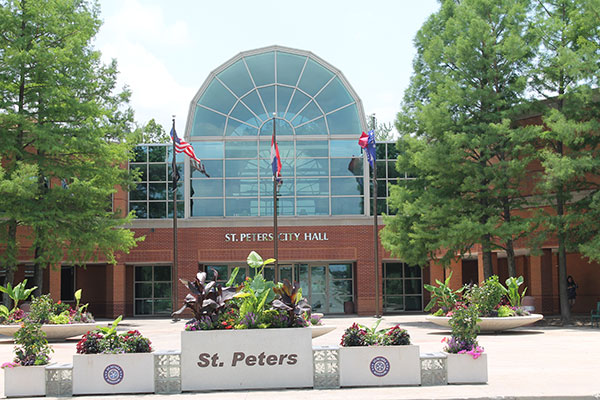 Woman arrested in St. Peters, Missouri over a red light camera ticket wins $100,000 judgment, plus legal fees.
The city of St. Peters, Missouri, will have to write a check for $100,000 for arresting Bonnie A. Roeder over a red light camera ticket. After a jury in St. Charles County delivered its verdict, Circuit Court Judge Jon A. Cunningham on Friday ordered the city to also pay the considerable legal bills Roeder racked up since her ordeal began seven years ago with the photo ticket she received in the mail.
On June 7, 2012, a Redflex red light camera photographed Roeder's car allegedly entering a St. Peters intersection shortly after the light turned red. Redflex mailed Roeder a $110 ticket, but she ignored it. Roeder believed the citation was unlawful, ultimately having one of her main arguments validated by the Missouri Supreme Court, which ruled in her favor in 2015 (view St. Peters v. Roeder, 180k PDF).
Prior to that high court victory, St. Peters municipal court administrator Greg M. White on September 11, 2012, issued a warrant for Roeder's arrest for failing to appear in court — even though the city had no ordinance making failure to appear an arrestable offense. Roeder beat the failure to appear charge at trial, and she also beat the red light running charge (which the city appealed, and lost, at the high court).
Roeder fought back by suing St. Peters for false arrest and malicious prosecution. Roeder's attorney, W. Bevis Schock, pointed out that the city used a trick by charging her not with failing to appear for the red light camera allegation, but for failing to appear on a charge of failing to appear.
"The city wished to aggressively pursue revenue from its red light camera ticket program by causing citizens to fear arrest all the while skirting any concerns about the legality of the red light camera ticket program itself," Schock explained. "Failure to appear was no crime in the city of St. Peters at that time and therefore her arrest pursuant to the warrant violated her Fourth Amendment right to be free of unlawful arrest."
The jury declined to hold the court administrator personally liable for signing the bogus arrest warrant, and her false arrest claim was rejected. Roeder will receive $100,000 in compensation on the malicious prosecution charge.