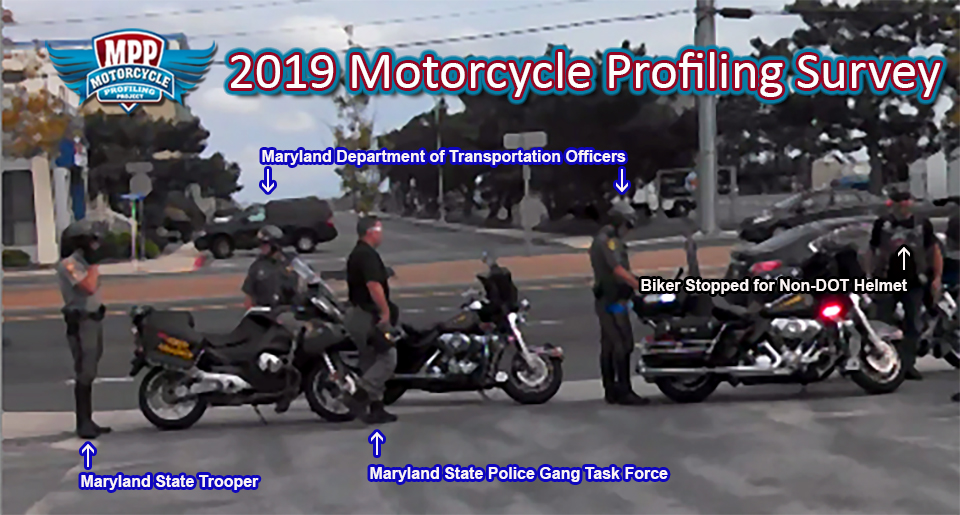 Video footage obtained by the MPP from the North Florida Council of Clubs confirms that motorcycle profiling is not only widespread in Daytona Beach, but it is also official law enforcement policy. In the words of Daytona PD Chief Craig Capri, "If you wear your colors [in Daytona Beach], you're going to get stopped." This official policy is unconstitutional and exposes the entire Daytona PD to civil liability. This video evidence also justifies a cost-free legislative solution in the form of a simple prohibition against motorcycle profiling combined with relief for victims.
Chief Capri's Statement Proves Unconstitutional Practices Are Policy
Without any other evidence, Chief Capri's Statement alone proves that the Daytona PD profiles motorcycle club members as a matter of policy. This official policy irrefutably violates the 1st, 4th, and 14th Amendments to the US Constitution.
Federal courts have confirmed that motorcycle club colors are protected by the 1st Amendment. To punish an individual through seizure in the form of a profiling stop anyone "who wears the insignia of [a 1% motorcycle club], without regard to or knowledge of that individual's specific intent to engage in the alleged violent activities committed by other members, is antithetical to the basic principles enshrined in the First Amendment and repugnant to the fundamental doctrine of personal guilt that is a hallmark of American jurisprudence. see Coles v. Carlini 162 F.Supp.3d 380 (2015)
Chief Capri's statement also violates the 14th Amendment because it represents Selective Enforcement of the law. Capri's statement proves that the strategy to use traffic stops as a way to punish those exercising their rights of expression and association is premeditated and selective. In terms of the 4th Amendment, any minor traffic pretext used to stop a club member in Daytona Beach should be presumed invalid.
Exposure To Civil Liability
Motorcycle profiling as a matter of policy implicates the entire Daytona PD at an organizational level. Independent of individual officers and incidents, each profiling stop exposes the Daytona PD as an entity to civil liability. Chief Capri is the highest authority at the Daytona PD and clearly articulates a policy of discrimination and Selective Enforcement. 42 U.S.C. Section 1983 provides:
"Every person who, under color of any statute, ordinance, regulation, custom, or usage, of any State or Territory or the District of Columbia, subjects, or causes to be subjected, any citizen of the United States or other person within the jurisdiction thereof to the deprivation of any rights, privileges, or immunities secured by the Constitution and laws, shall be liable to the party injured in an action at law, suit in equity, or other proper proceeding for redress."
An Epidemic In Florida
The National Motorcycle Profiling Survey validates the Florida's profiling epidemic. The 2018 NMPS lists Florida as one of the top motorcycle profiling concerns in America. According to the 2018 NMPS, 65% of Florida survey participants reported being the victims of motorcycle profiling at least once since 2012. These survey statistics are 99% reliable with less than a 2% margin of error. (See NMPS Executive Summary 2018).
Despite promises, Daytona PD has failed to address motorcycle profiling
There is a long history and pattern of evidence establishing that motorcycle profiling is engrained in the Daytona Beach PD. And the Daytona PD has made empty promises when caught with their hands in the cookie jar.
While attending the 2017 Biketoberfest rally in Daytona Beach, Florida, members of the Iron Horsemen Motorcycle Club (IHMC) were the target of blatant profiling and discrimination at the hands of the Daytona Beach PD. The incident, caught on videotape as a result of quick thinking, is irrefutable. The impact on civil liberties motivated the combined efforts of the North Florida Council of Clubs, the National Council of Clubs, and the Motorcycle Profiling Project to immediately respond with a formal complaint and public record requests. These inquiries, based on the video, sparked an investigation into the actions of the officers involved and a review of Daytona PD policies regarding motorcycle clubs, said a source inside of Chief Craig Capri's office. As a result of the State Attorney's inquiry, a curriculum was supposed to be constructed and all Daytona PD officers were to be re- trained relating to motorcycle profiling.
Unfortunately, almost 2 years later, motorcycle profiling is alive and well in Daytona Beach. As articulated, motorcycle profiling is still official policy.
A Legislative Solution
Motorcycle profiling is a legitimate national policy discussion. In December, the US Senate unanimously approved S.Res.154 which directs all states to follow the lead of Washington State and Maryland by legislatively addressing and condemning the practice of motorcycle profiling. A prohibition combined with injunctive and actual relief for victims is a simple solution with no fiscal impact. A legislative prohibition would immediately increase exposure to the issue therefore reducing incidents of profiling.
The post Motorcycle Profiling is Official Daytona PD Policy appeared first on Motorcycle Profiling Project.
http://www.motorcycleprofilingproject.com/'