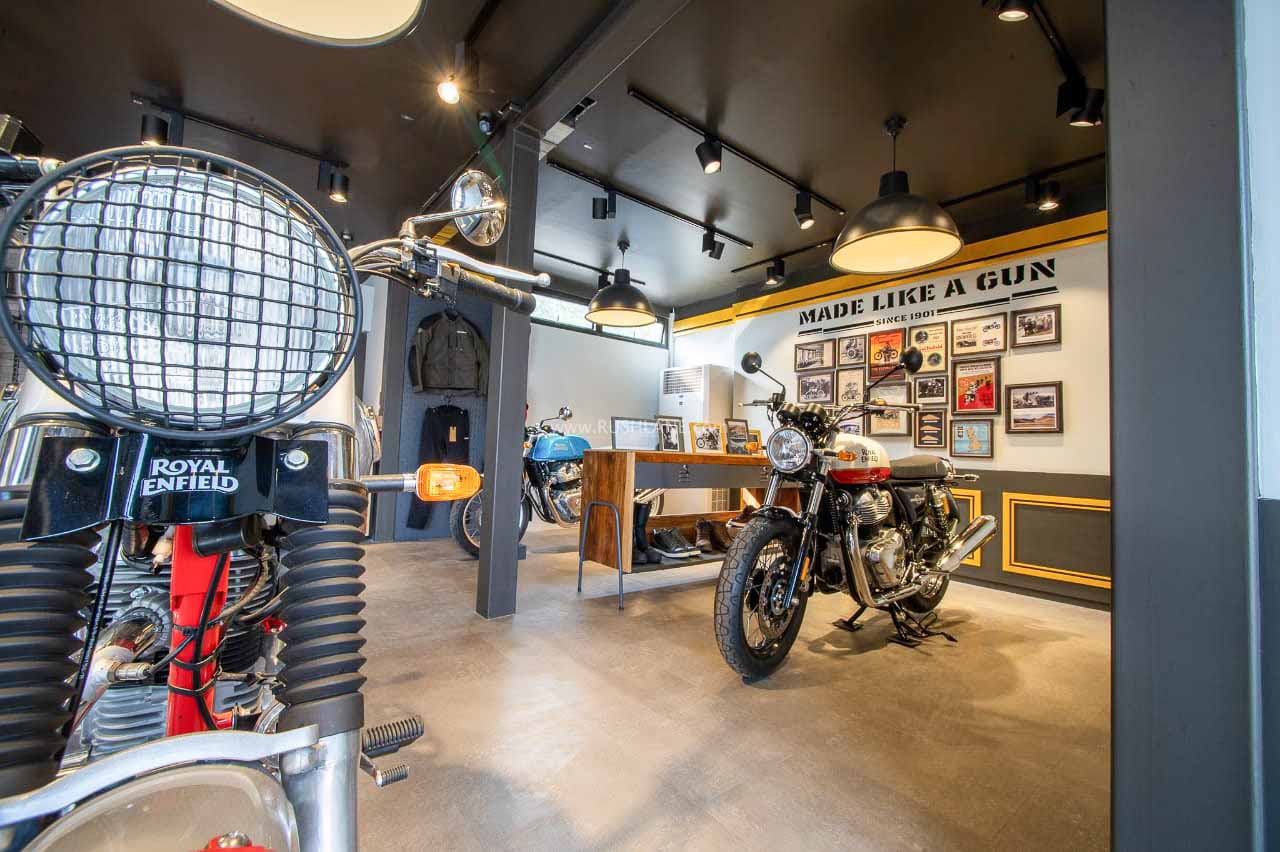 by Pearl Daniels from https://www.rushlane.com
This two level movable dealership has the complete range of Royal Enfield motorcycles on display
Royal Enfield has introduced a novel way to display and sell its range of bikes in Thailand. A movable dealership has been set up at the Chiang Rai, Thailand region which is constructed out of shipping containers so as to allow it to be completely dismantled and moved to a different location.
This is a two level showroom that boasts of a novel layout with the display area that showcased the entire range of Royal Enfield motorcycles while RE branded riding gear is also showcased on another level. The new store is a part of the Golden Triangle region bordering Laos, Myanmar and Thailand. It is currently open to customers in the Chiang Rai area.
Royal Enfield commenced sale of motorcycles in Thailand four years ago. It offers its complete range of motorcycles and currently has 9 showrooms and 6 service centers in the country. There is also an assembly plant in Thailand which commenced operations in June 2019. It may be recalled that the Royal Enfield 650 twins were initially launched in this South East Asian market.
Though this is a movable showroom, it is very much like any other RE showroom around the globe. The exteriors as well as interiors are decorated in the same global theme of Royal Enfield. Exteriors are finished in the same colours, while on the inside you will find motorcycle display area, accessories, etc.
The idea behind such an initiative is to keep the costs low and have the freedom to set up your showroom in different areas – depending on business / time of the year. These new showrooms are easy to setup, and dismantle – in short period of time. They can also be transported to a new location, using trailers.
Royal Enfield portfolio currently comprises of the Bullet, Classic, Thunderbird, Himalayan, Interceptor 650 and Continental GT 650. Earlier this month in India, the company has revised prices of the Himalayan, Bullet and Classic range in India with new priced higher by around Rs.2,755. This is the first time that the three models have received a price hike since being updated to comply with BS6 norms.
The Bullet 350 BS6, launched in March 2020 is now priced from Rs.1.24 lakhs for the Bullet X 350 EFI while the Bullet 350 EFI carries a price tag of Rs.1.30 lakhs. Bullet X 350 electric start is priced at Rs.1.40 lakhs. With the price upgrade, RE Classic 350 single channel ABS is priced at Rs.1.60 lakhs while its dual channel counterpart is priced from Rs.1.68-1.84 lakhs depending on colour scheme. BS6 Himalayan prices range between Rs.1.90-1.94 lakhs depending on variant. This price hike is despite none of these three models receiving any mechanical or feature upgrades.
Recently, Royal Enfield also announced a recall wherein 15,200 motorcycles were recalled due to constraints in the braking system. These included models such as the Interceptor 650, Continental GT 650 and the Himalayan. Corrosion of the brake caliper was noted in some of the bikes in specific countries across UK, Europe and Korea, which could be due to riding on roads which were treated with salts to prevent ice formation during the winter months. No such recall has been announced in India, despite a few owners pointing out a similar issue with their 650 Twins here.