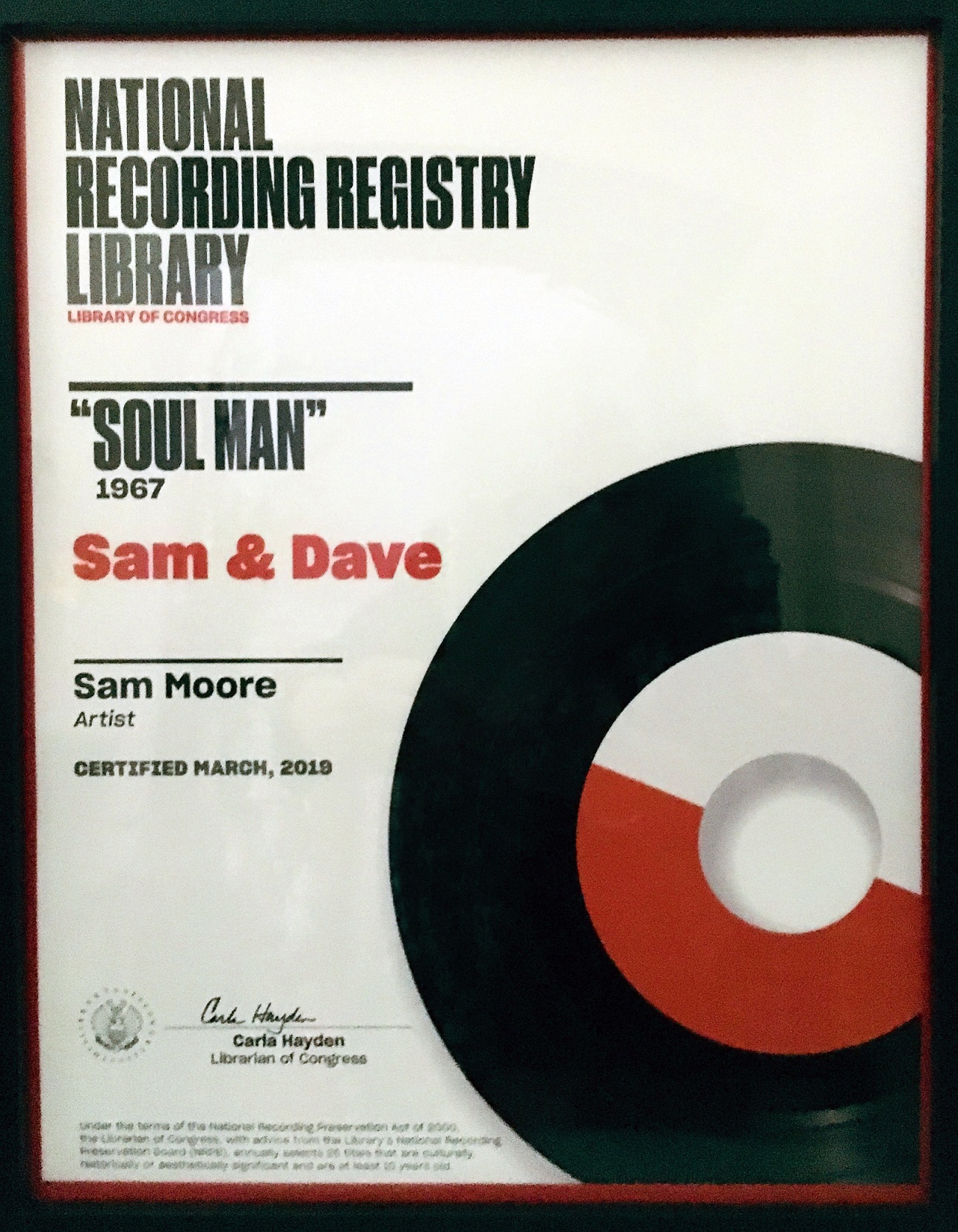 WASHINGTON, D.C. – Sam & Dave's 1967 hit single "Soul Man"; the classic radio western "Gunsmoke"; Ritchie Valens' groundbreaking 1958 sensation "La Bamba"; the revolutionary 1968 Broadway musical "Hair"; and Neil Diamond's 1969 "Sweet Caroline," which became a popular sports anthem, are the newest recordings inducted into the National Recording Registry of the Library of Congress.
Isaac Hayes, the "Soul Man" song's creator, found the inspiration for the song that's become an anthem in the turmoil of the civil rights movement of the 1960s. The dynamic vocal duo of Sam & Dave (Sam Moore and David Prater) recorded it with Hayes and Porter producing, backed by Stax Records regulars Booker T. and the M.G.'s and the Mar-Keys' horns. "Soul Man" is instantly recognizable by its first few notes, with its distinctive horn lines and guitarist Steve Cropper's trademark sliding sixths. The engine that powers "Soul Man" is Donald "Duck" Dunn's infectious, ebullient bassline.
"The National Recording Registry honors the music that enriches our souls, the voices that tell our stories and the sounds that mirror our lives" said Hayden. "The influence of recorded sound over its nearly 160-year history has been profound and technology has increased its reach and significance exponentially. The Library of Congress and its many collaborators are working to preserve these sounds and moments in time, which reflect our past, present and future."
More information on the National Recording Registry can be found at www.loc.gov/programs/national-recording-preservation-board/about-this-program/.
The new recordings to the National Recording Registry bring the total number of titles on the registry to 525, a small part of the Library's vast recorded-sound collection of nearly 3 million items.
The Library of Congress is the world's largest library.
About The Legendary Soul Man™ Sam Moore: https://sammoore.net/
The first 20-plus years of Sam Moore's sensational career began by lending his unmistakable lead vocals to soul duo Sam & Dave. The 1967 smash hit "Soul Man," catapulted the duo's career up the Pop and R&B Charts, selling more than 10 million records worldwide and ultimately an induction into the Rock & Roll Hall of Fame.
Moore also scored critical acclaim and numerous awards as a solo artist for more than 35 years, performing at some of the world's most iconic and notable venues, including Carnegie Hall, Lincoln Center, The Hollywood Bowl, The Ryman Auditorium, The Grand Ole Opry, Royal Albert Hall, Nippon Budokan, The John F. Kennedy Center, The White House, Lincoln Memorial and Washington Monument. Moore has recently joined Florida International University (FIU) as an Artist in Residence for their Center of Humanities to build a program around the artist histories that shaped our culture through music.