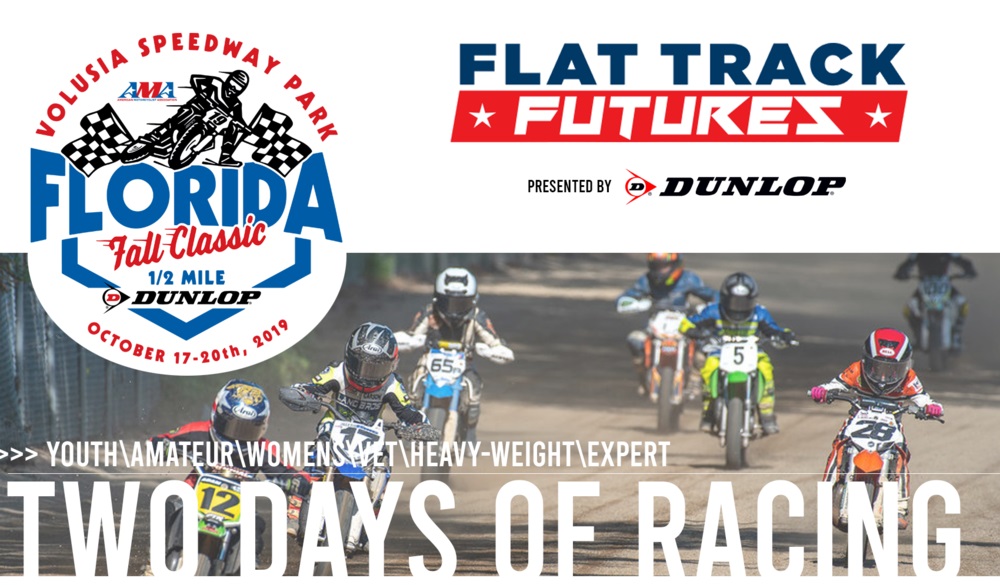 Johnny Lewis Launches Flat Track Futures and Announces The Inaugural Dunlop Florida Fall Classic at Volusia Speedway Park.
Center Hill, Florida: August 21st, 2019 – Johnny Lewis, American Flat Track race winner and MotoAnatomy training school founder, announces that the newly formed organization Flat Track Futures will hold the inaugural Dunlop Florida Fall Classic at Volusia Speedway Park. The American Motorcyclist Association sanctioned Feature Event will take place October 18-19th, 2019, the same week as Biketoberfest which typically attracts over 100,000 riders to the surrounding area for the week-long festivities.
The Dunlop Florida Fall Classic is geared to showcase the talents of amateur flat track racers from across the USA and abroad with nationwide media coverage at a premier racing facility. A long time advocate of amateur flat track racing, Johnny rose through the ranks as a top amateur in his youth winning the prestigious AMA Sports Athlete of the Year at 15 years old.
Lewis comments, "I've been running MotoAntomy training programs throughout North America and Europe working with a range of riders for 4 years now. I've come to realize there is a crucial need for an amateur orientated series that can showcase these riders and their incredible talents while gaining exposure required to connect with sponsors. I plan to establish a premier level amateur national series that provides young riders the tools to join the American Flat Track ranks when their time comes. My overall goal is to build an even stronger grass roots flat track community."
The two day race will feature an infield VIP experience through partnership with STANDARD M/C including, demo rides, free camping, live music and entertainment, vendors, concessions, and of course access to watch 12 classes of flat track racing competition. American Flat Track spec tire manufacturer Dunlop Motorcycle Tires has signed on to support the event as title sponsor. Dunlop will soon be announcing details on how racers can earn their spot on the Team Dunlop Amateur Flat Track Support program for 2020 through the Florida Fall Classic.
Moto Anatomy will also be hosting a two part event that will take place over two days with guest speakers from inside and outside the industry. The Summit will include demonstrations, visual seminars, and question & answer discussions with top professionals in their respective fields ranging from technical training set up tips to motivational speakers, athlete marketing and professionalism, and much more.
More information about the Dunlop Florida Fall Classic and pre-registration as well as a second November event at Travelers Rest Speedway will be announced in the coming weeks.
About Flat Track Futures: Flat Track Futures is an amateur racing organization sanctioned by the American Motorcyclist Association. It was established to provide a premier level experience to youth Flat Track racers and offers an accelerated path to the professional ranks of American Flat Track while exposing upcoming talent to media and potential sponsors.
Visit http://www.flattrackfutures.com/ or follow @flattrackfutures.