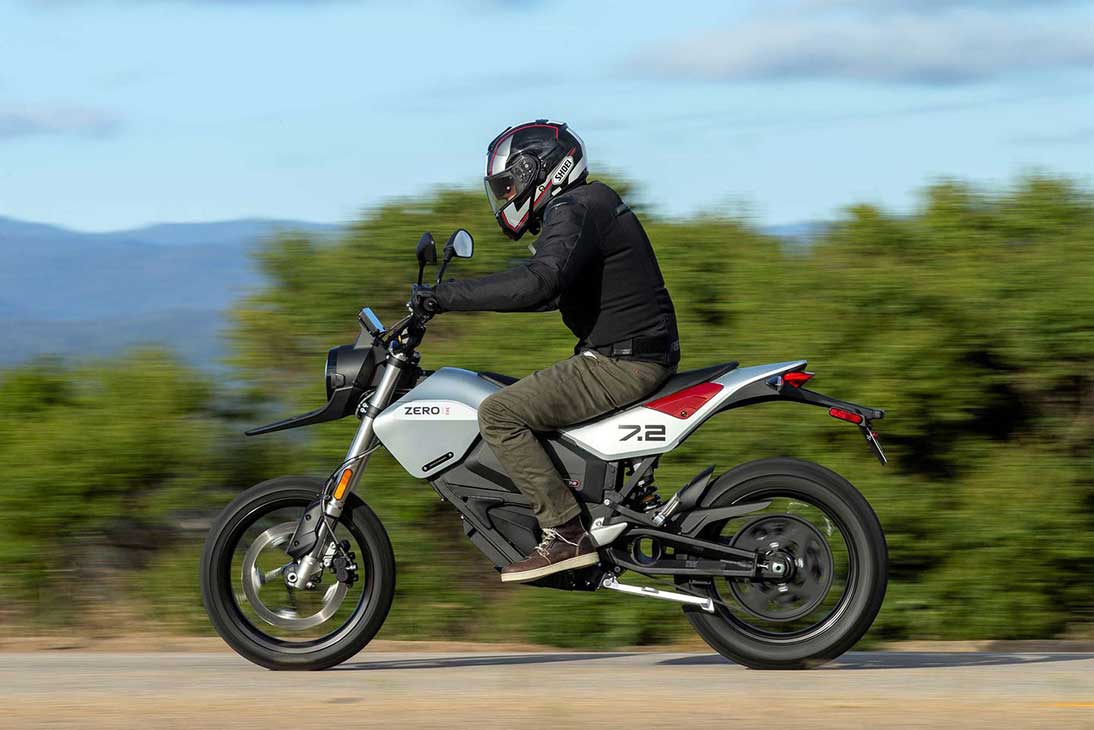 by Andrew Cherney from https://www.cycleworld.com
The brand's sleekest and most fun ebike yet. The lightweight, agile FXE is a new addition to Zero's 2022 lineup.
In a segment full of either high-priced, tech-heavy options or cheap flimsy junk, the FXE is a step in the right direction, especially for commuters not too concerned with range. It's also a ton of fun.
The design adds a minimal, supermoto style onto the existing FX platform for a more modern, updated feel.
Steel frame holds the tried-and-true ZF 75-5 air-cooled motor in the FXE, rated at 46 hp. The 7.2kWh battery is not removable.
Certain design elements like the front headlight design (an LED) and "beak" got carried over directly from the Huge Design concept bike.
The bike's light weight and short wheelbase make it easy to work turns, with good lean angle and sticky Pirelli tires aiding in your attack. You can drag the kickstand if you're super aggressive though.
The relaxed, commuter-friendly riding position is even more upright than the SR/F's but it makes for a comfy perch (except at higher speeds).
You'll find the Cypher II operating system on the FXE displayed on a new 5-inch TFT screen, giving various ride modes and bike data. Pair your phone with the app to tailor them and get more detailed info.
Stylish cast wheels hold grippy Pirelli Diablo Rosso II tires, which upped our confidence in deeper high-speed turns.
The rear Showa monoshock delivers nearly 8 inches of travel for an impressively stable ride.
Inverted Showa fork is adjustable. J.Juan brakes offer excellent feel and good stopping power, and ABS can be turned off.
2022 Zero FXE Specifications
MSRP: $11,795
Motor: ZF 75-5 air-cooled IPM motor
Battery: 7.2kWh (max capacity) lithium-ion integrated battery
Charger type: 650W integrated
Charge time: 9.7 hours to 100% w/ standard 110V or 220V input
Claimed Range: 60 miles highway, 100 miles city, 75 miles combined
Claimed Peak power: 46 hp @ 3,500 rpm
Claimed Peak torque: 78 lb.-ft.
Top speed: 85 mph
Transmission: Clutchless direct drive
Final Drive: Carbon belt
Frame: Steel trellis
Front Suspension: 41mm inverted Showa fork, spring preload, compression and rebound damping adjustable; 7.0 in. travel
Rear Suspension: Showa 40mm piston monoshock, spring preload, compression and rebound damping adjustable; 8.9 in. travel
Front Brake: 1-piston J.Juan floating caliper, 320mm disc w/ Bosch Gen 9 ABS
Rear Brake: 1-piston J.Juan floating caliper, 240mm disc w/ Bosch Gen 9 ABS
Wheels, Front/Rear: Cast alloy; 17 x 3 in. / 17 x 3.5 in.
Tires, Front/Rear: Pirelli Diablo Rosso II; 110/70-17 / 140/70-17
Rake/Trail: 24.4°/2.8 in.
Wheelbase: 56.0 in.
Seat Height: 32.9 in.
Claimed Curb Weight: 299 lb.
Standard warranty: 2 years
Contact: zeromotorcycles.com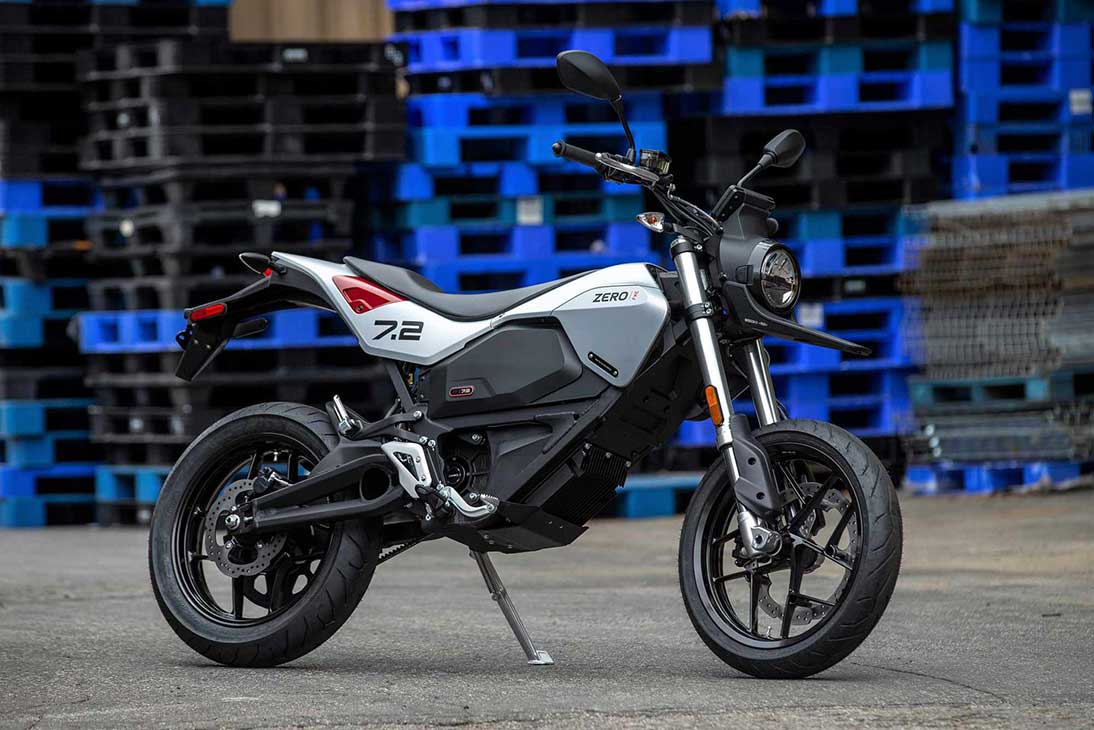 Conventional wisdom says there will be more EVs on the street within the next five to 10 years, and our urban roadscape will look a lot different than it does now. But conventional wisdom usually skips over the equally important notion that attracting riders means you have to innovate while also being sensitive to price, particularly in the electric space. Zero seems to be tackling those talking points, at least partially, with the reveal of the new 2022 FXE, a compact and affordable supermoto-styled commuter machine it's billing as "the motorcycle of tomorrow, available today."
Building the bike of tomorrow is a tall order, even for an electric motorcycle manufacturer, but when Zero took the wraps off its new machine last month near the firm's HQ in Santa Cruz, California, our group of assorted moto scribes nodded. Here indeed was a very different looking electric bike—especially for the sometimes dowdy two-wheel electric space. And yet a mind-blowing revelation it was not, especially if you're looking at the spec sheet alone. From a design standpoint, the slim, starkly modern supermoto-styled machine felt instantly appealing—even if it looked an awful lot like a deconstructed riff on the WR450, or more accurately, a close cousin of the brand's already supermoto-y FXS model. But how would it hold up on the street?
n the FXE's case, form did not have to follow function—or not as rigorously as previous models, which adopted more familiar shapes to make them appealing to the general public, according to Zero. But now, says VP of Product Development Brian Wismann, the consumer is ready for updated designs, which explains why the FXE, a model based on a concept collaboration with Huge Design back in 2019, is here. Although it's built on the brand's existing FX platform, the partnership with Huge introduced a completely new design language, informed mainly by stripped-down panels of bodywork. (The concept bike was in fact built on an FXS model, and you can see the similarities.) On the FXE, the so-called essential surfaces—seats, body panels, touch points—are intended to look like they're floating over the chassis. The distinctive styling radiates modern industrial design aesthetics, while "celebrating the electric drivetrain" says Wismann.
When we sidled up to the FXE at a secret staging location outside of town—Zero shrewdly had us ride older SR/Fs and SR/Ss to where the new bikes were stashed—we were struck by just how approachable the profile was. A sane seat height welcomed even the shorties in the bunch, with the 32.9-inch perch making for easy access and a riding position similar to that of a dirt bike, not super aggressive but sitting atop the slightly dished, mostly flat seat, with a fairly short reach to the tallish bars. Mid-mounted pegs were ideally located, not too far forward or rearward, providing an upright stance in the saddle—even more than the SR/F I had just gotten off of. The compact body panels make for a clean look, though they did splay outward from below the faux fuel tank, pushing my knees out into the wind. They basically made it impossible to grip the tank as you normally might, but it was more minor inconvenience than any real annoyance.
With the ergonomics checking out, I put the FXE into Sport mode and let 'er rip. Even though I sort of knew what to expect, the instant torque pop of an electric motor never fails to put a big grin on your face. Yes, 46 horses might not sound like much, but the eerily silent power pulse from the air-cooled ZF 75-5 motor is more than enough to turn your head, especially in its immediacy; the throttle felt far more responsive than the SR/F we had just ridden, possibly because the FXE's substantially smaller mass and less unsprung weight made for quicker power transfer. With its narrow waist and short wheelbase, I found I could easily push the FXE into and through even the harshest decreasing-radius turns we tackled among the Santa Cruz redwoods. The bike did not fight me on quick transitions as much as expected, with the sticky Pirellis giving me all kinds of confidence throughout a half-day stint in mountain twisties. And with no need to worry about shifting, you're free to focus on the next apex. Or to just blast to the 85-mph top speed, which I did whenever we hit a straight stretch of road. Why not, right?
Zero also outfitted the FXE with its now-familiar J.Juan brakes and bolstered by a Bosch ABS system, so stops were also a stress-free affair, with easy lever pull giving a strong bite and solid stopping power and almost no fade. (ABS can be turned off as well.) With 7 inches of travel, the inverted, adjustable Showa fork soaked up almost every road deformity we came across (except for one unexpected curb hop) staying composed even in truly harsh divots. Holding the line out back is an equally resilient—and adjustable—Showa monoshock that tracked solidly throughout our short ride.
As with the FX, the FXE also leverages Zero's Cypher II operating system, which here is married to a new 5-inch optically bonded TFT display that proved bright and easy to read. You can access ride modes—it comes preprogrammed with Eco and Sport—and tailor torque, speed, and brake regeneration from the free Zero app, which also gives you insight to battery status. We can't speak to range, given our short ride day—Zero claims 100 miles of city riding from the 7.2kWh (peak) battery, with 60 miles of range claimed on the highway, at 55 mph. The display screen showed less than 20 percent of charge remaining after our 50-mile stint, which was a mix of high- and low-speed scenarios, and that feels fairly close to the claim. According to Zero, the onboard 650W charger will top off the battery in 9.7 hours off a standard household socket; a rapid charger available for additional cost will do the job in a little more than 3 hours.
In sum, we're not entirely buying the "bike of tomorrow" tagline, but the FXE does manage to serve up a grin-inducing blend of instant acceleration, flickability, and easy steering. Perhaps even more tantalizing is the sub-$10K price tag; yes, you're getting a somewhat short range bike, but at least that obstacle is being somewhat addressed. Of course that sub-10K number rings true only once you tally in the federal and California EV tax credits, but hey, $10K is $10K.
Considering H-D's lowest priced electric offering, the just-released LiveWire One, runs upward of $20K, and any bike called Lightning, Energica, Tarform, or Damon is well north of there, you've gotta hand it to Zero for compiling a portfolio of four models priced under $12K, all coming with a warranty and dealer support.
The dual sport FX sits at $11,595, the entry-level FXS is at $11,295, the naked S is priced at $10,995, and now the FXE at $11,795. All four either are or can be configured with the ZF 7.2 powertrain, which, granted, is not the fastest or most top-of-the-line offering, but it does help make the FXE one of the most affordable models in the Zero line.
You can check it out yourself at some of the upcoming stops of the IMS tour (starting with Sonoma Raceway on July 16) and bikes should be in dealers later this month as well.