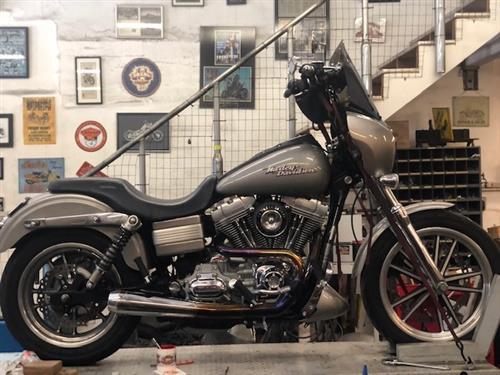 The Rear One Installed on the Tileman's 2009
by Bandit, Tim and the Tileman
Dynas are tricky and handling is key. They are more popular now than ever and the later units were tougher with a new frame, 49mm front ends and cast swingarms.
That's the way to go, but it's also, especially with big inch twin cam engines, tougher on the stock motor mounts, which are handling keys.
If you feel your bike being pulled to the left or to the right, there's a very good chance you power train is out of alignment. And guess what, there's not much you can do about that with your current set up.
Until now…. CCE designed all our motor mounts with adjustable links and brackets. With measurement tools you know exactly where the motor needs to be for perfect alignment.
You may have also experienced vibration and need to replace broken motor mounts. We've addressed these issues as well. We've cut no corners and have created the very best motor mounts on the market. All made right here in the USA.
Join the Cantina – Subscribe Today