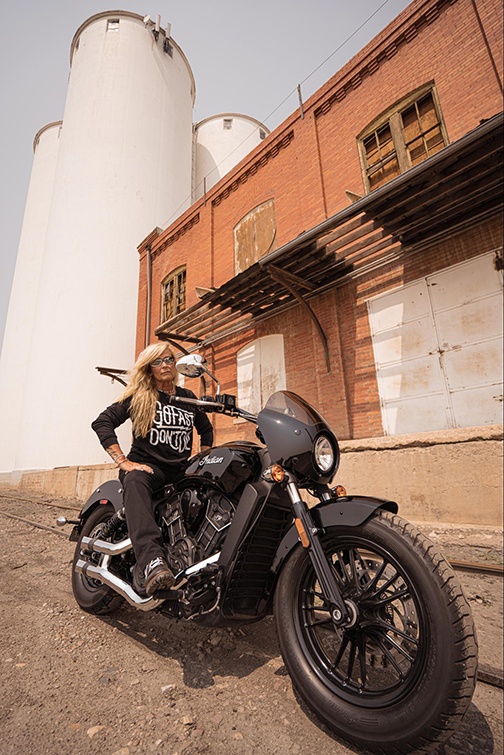 What can you give someone as a gift who deserves the world? An experience to remember. What kind of experience can you gift someone who loves to ride? You can rent a motorcycle for them in a beautiful place that they've never ridden—and plan some awesome routes. Here is a little about my experience with Twisted Road; maybe you'll find inspiration to give someone the gift of a motorcycle trip (or treat yourself to one!).
A Little Backstory & Our Dilemma
My name is Avory, and I grew up in Michigan; my whole family still lives there. But for me, that cliché thing happened where "the mountains called," and you know… Colorado got me. For my mom's birthday this year, I wanted to share the beauty of Colorado's canyon roads, rivers, and mountains with her. She's been riding basically her whole life, but she hasn't ridden outside of a few midwestern states. I figured the best way to do that was to throw motorcycle exploring into the mix.
Then comes our dilemma: for the sake of time and convenience, I didn't want to have my mom ride her baby, an Indian Chief Classic, all the way from Michigan to Colorado by herself. Renting her a bike was the first thought I had. While there are a few motorcycle rental companies out there, I found that Twisted Road provided the best inventory of motorcycle brands and model choices. Everyone has their preferences, and my mom is loyal to her Indian Motorcycles. Through Twisted Road, I found the only Indian for rent in all of Colorado—and it was perfect for her.
The Reservation & Rental Pickup Experience
Finding the bike on Twisted Road was easy—the website is very user friendly, and for those looking for something specific, the filters come in very handy. I was able to filter by brand to find the Indian Scout, and was very excited to see it available.
When we went to pick it up, the owner, Derek, was really cool (as most everyone I've met in the motorcycle community has been!). He did a walk-around and explained the aftermarket parts he'd put on, checked the air pressure in the tires, and let us know to call or text him with any questions. It was a super easy process! Kickstand up and we were on our way.
Our Riding & Adventures in Colorado
We only had 2.5 days of actual riding, but managed to get out to some pretty awesome places. We rode Rist Canyon through Stove Prairie up to The Mishawaka for dinner out on their deck over the water; it's a must. Sunset above the canyon and Cache la Poudre River is incredibly beautiful. The Poudre Canyon out to Estes Park was also an awesome experience. My mom's face when she got off of her rented Indian was like a kid on Christmas; it was the best gift I could've given her. She said it was the best ride she's been on in her life.
Overall, it was an incredible experience that we'll never forget. I think everyone could use some throttle therapy this year. There are so many beautiful places to go see, and doing so by motorcycle makes them all the more enjoyable. Whether you're able to fly or road-trip, this is your sign that you need to pick a spot on the map and find a bike to ride for when you get there. You won't regret it.
As mentioned before, the motorcycle community has brought some really amazing people into my life. If you'd like to connect, follow me on Instagram, @_aaaves!
CHECK OUT https://www.twistedroad.com