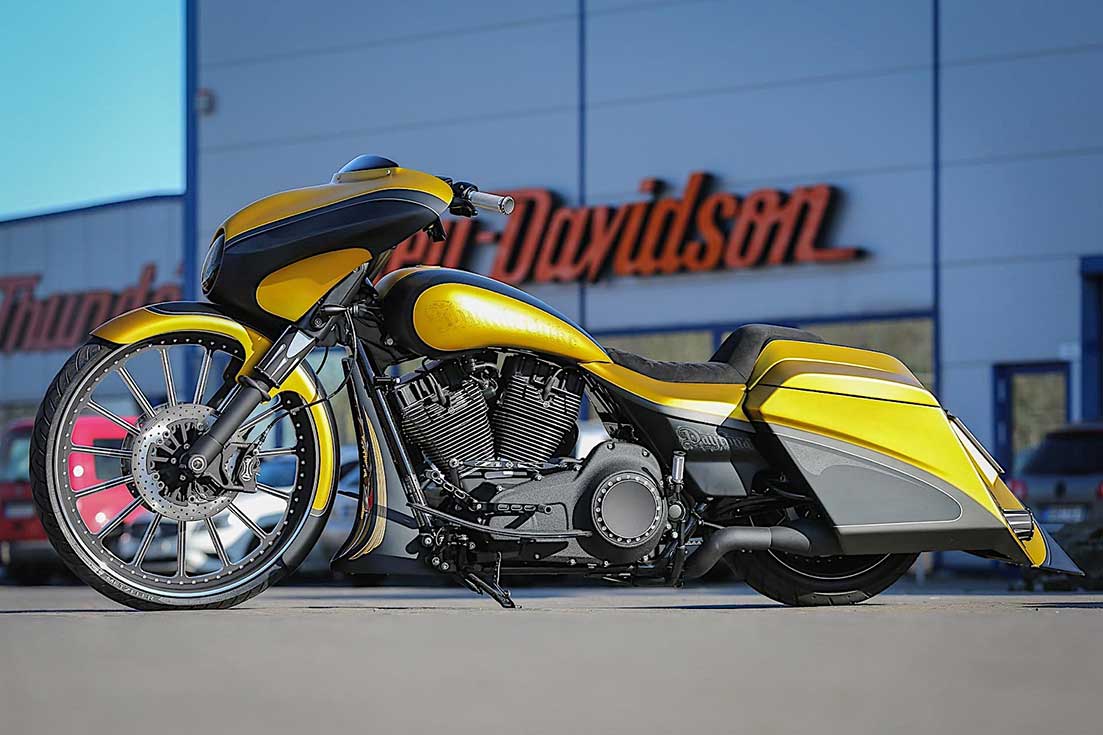 by Daniel Patrascu from https://www.autoevolution.com
Are 30 inches too much when it comes to a motorcycle wheel? It depends, I guess, on how one uses it to get the desired effect.
Visually, the choice of wheels for a custom bike is extremely important. More than when it comes to cars, the wheels are crucial components for sending the right message across.
What you're looking at here is called the Daytona. Initially, it was a Harley-Davidson Street Glide, but after it landed in the shop of German specialist Thunderbike, it got severely mutated.
Like many of Thunderbike's other builds, this one too revolves around the wheels. That's because the garage makes and sells its own, and what better way to advertise the products than fitting them on incredible builds?
In the case of the Daytona (that's also the name of the part), the front wheel is a massive 30-inch piece of hardware in a design the Germans call Spoke Light. It's a forged aluminum piece designed to be a fit in the shop's bolt-on bagger rake kit.
On its own, the wheel would have been enough to capture all our attention, but as usual, Thunderbike did not stop there. Most of the motorcycle's body elements were changed, starting with the front fender, going to the fuel tank, and ending with the rear hardware, now pierced by the longer exhaust.
Needless to say, the modifications reshaped the entire Street Glide. From a rather upright, proud bagger, the bike went for a much more feline-like appearance, with a design that seems to flow smoothly from the front to the rear. A major part in this perception is played by the paint scheme used, one that sandwiches strips of yellow between the black of the frame/engine and the seat/top of the fuel tank.
We've covered Thunderbike's builds quite extensively over the past year, and usually we are able to give you an estimate on how much a project is worth. Uncharacteristically, the shop did not list the parts used for this build, thus making it harder for us to venture a guess.
For reference, though, the Daytona rake kit is worth close to €2,000 ($2,400), and the wheel adds about the same amount.