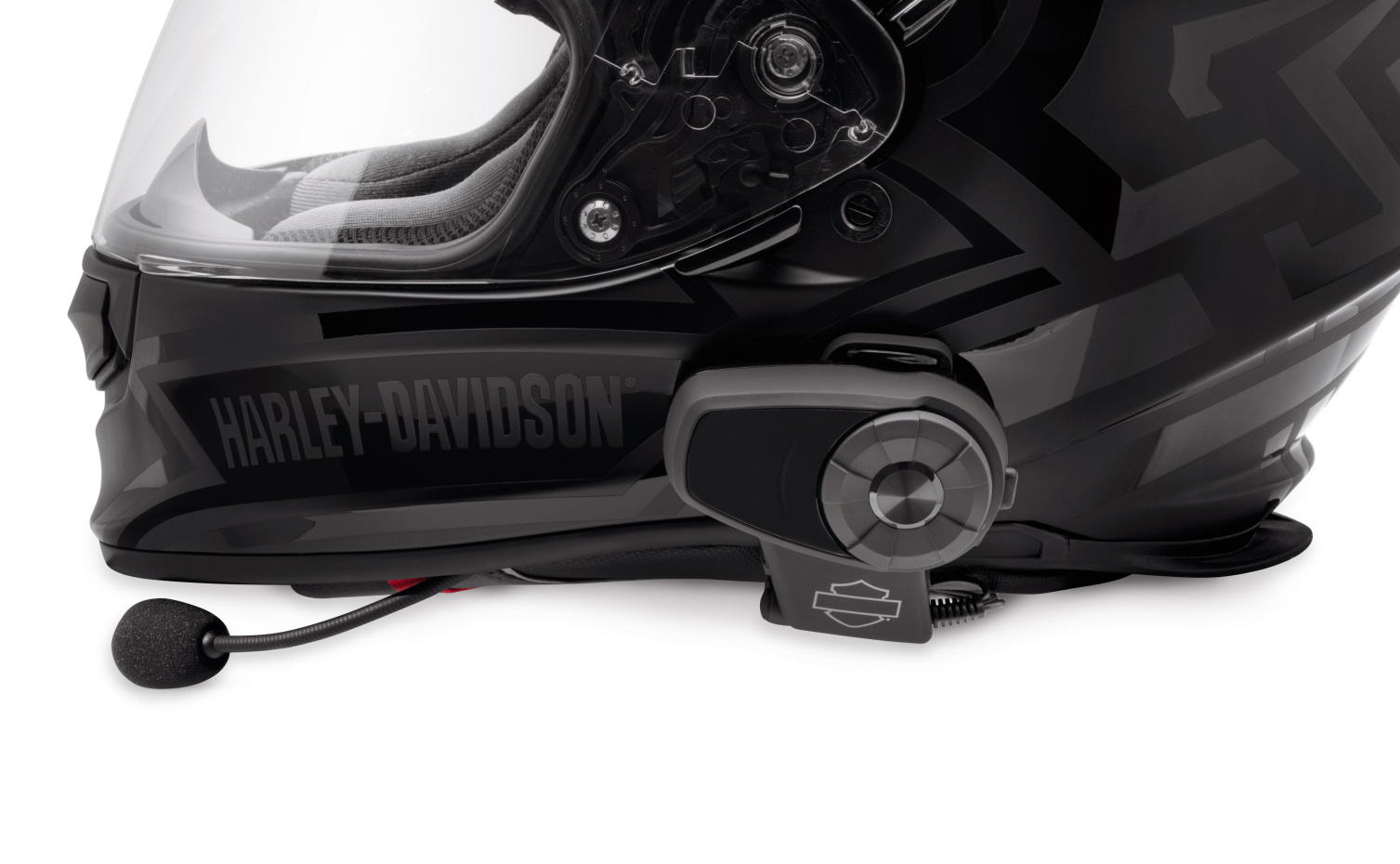 NEW HARLEY-DAVIDSON HEADSETS HELP RIDERS STAY CONNECTED
Whether on a cross-country haul or a trip across town, riders can keep connectivity and their eyes looking ahead. Boom!TM Audio Bluetooth® accessories make it possible to keep full communication with passengers, other riders or even a whole group with outstanding sound and functionality. No need to worry about a missed call or fuss with a pocket music player when you have an H-D Boom! Audio Bluetooth Headset.
Take the Harley-Davidson riding experience to the next level with the Wireless Headset Interface Module (WHIM – P/N 76000768 $299.95*). The WHIM allows riders to communicate with their bike without being wired to it. Communicate via CB radio, hear turn-by-turn GPS directions and listen to the radio with the WHIM Bluetooth® adapter and a Bluetooth®-enabled headset. Dual headset connectivity allows for two Bluetooth®-enabled headsets to be connected to one WHIM. The WHIM fits '14-later Touring and Trike models with a Boom!™ Box 6.5GT or Boom!™ Box GTS audio system. '14-'17 models require a separate purchase of the Wireless Headset Interface Module Harness (P/N 69201726. $49.95*). 
Next, pair the WHIM to a helmet headset like the new Boom!™ Audio 30K Bluetooth® Helmet Single Headset (P/N 76000838, $329.95*). This headset comes with a Bluetooth® module and a Mesh Intercom Network module to offer riders an integrated riding experience. Pair the headset with the WHIM to enjoy full stereo sound, use the bike's infotainment screen to configure the headset and leverage the existing hand controls to keep hands on the handlebar while searching through music, phone, GPS and push-to-talk intercom conversations. Apple CarPlay is available when equipped with the new Boom!™ Box GTS Radio. This headset allows a talk time of up to 13 hours and takes 1.5 hours to fully charge. 
Another option is the new Boom!™ Audio 10S Bluetooth® Helmet Single Headset (P/N 76000837, $239.95*). It is a single-use headset that connects riders on group rides or allows them to connect to the WHIM. The 10S headset comes with one Bluetooth® module and offers 10 preset station memory, integrated FM radio and Bluetooth® Intercom with up to four riders. This headset allows a talk time of up to 12 hours and it takes three hours to fully charge. 
To download a Genuine Motor Parts & Accessories catalog, visit www.H-D.com/catalogs or visit your local H-D dealership to learn more.