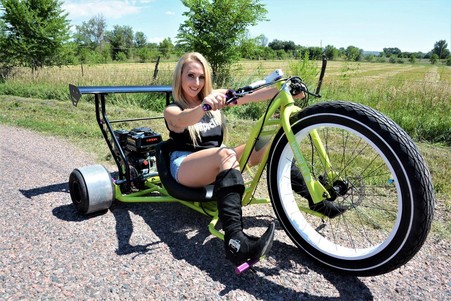 www.BikernetTrike.com Editor discovers joys of tomfoolery and nurtures his inner child
Drift trikes aren't new. They were known as Big Wheels or Green Machines in the 1970s. These featured mechanical tricks you might recognize on modern drift cars like "stick shift" brake handles and absurd steering angles. Fuzzy wristbands, Keds, and sliding sideways on a Big Wheel made for serious street cred in 1976.
Big Wheels and modern drift trikes have many decades to evolve and in between, Harbor Freight began selling the Predator 212cc 7hp engine for about $100. When technologies converge, the cosmos endures a cultural melting pot of dreams, functions and thrills resulting in a triumph of the TinkerHead. Get ready for a $500 motorized drift trike you can build in the garage. Your own personal hotrod ready to rumble.