For one week only Klock Werks is offering the best deals on all parts, accessories, and apparel including the newest releases!
The Grand Opening Launch of Klock Werks' new website GetKlocked.com begins Monday, September 5th and runs through Friday the 9th. For the first time ever, Klock Werks' is offering an entire week of discounts in celebration of the new site that has been active since late June.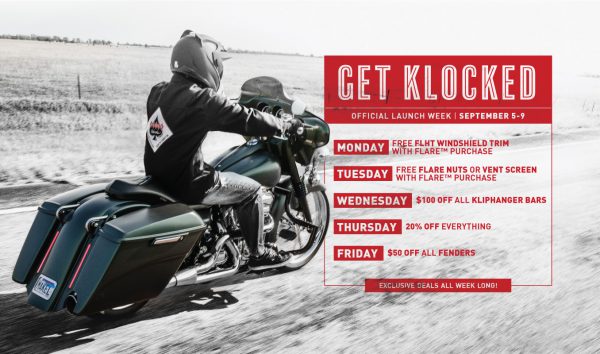 Check out the daily deals, and mark your calendar so you don't miss your chance for big savings! Be sure to check GetKlocked.com, or sign up for our newsletter right away so you don't miss the coupon codes! And, as always, Klock Werks will ship your package for FREE* (applicable within the continental US) if you spend over $195!
On Monday, when you purchase an FLH Flare™ Windshield, you can choose the corresponding windshield trim for FREE! Be sure to get the Flare™ and the trim in your cart before using the coupon code!
Get FREE Flare™ Nuts or a FREE vent screen for Road Glide when you purchase an FLTR Flare™ Windshield on Tuesday. You must have one of the following in your cart for the coupon code to validate: the Sport Flare™ for 2015+ Road Glide, the Pro-Touring Flare™ for 2015+ Road Glide, and the Flare™ for 98-2013 Road Glide.
If you have been leaning toward the innovative and adjustable KlipHanger handlebars, now's your perfect opportunity for the best deal. On Wednesday only, take $100 OFF ANY KlipHanger Handlebar purchase! Got two bikes? Use the coupon code twice on separate purchases! Klock Werks offers KlipHanger bars for Road King, Softail, Road Glide, FLH models, Dyna, Sportster, FXR, Indian Chieftain, Indian Roadmaster, Indian Scout, and Victory models. The unique "klamps" on these bars allow the control/grip portions of the handlebar to be adjusted allowing you to position your wrists exactly where they want to be reducing significantly strain and pain in your shoulders, wrists, and back!
On Thursday, we are offering a coupon code to take 20% OFF EVERYTHING at getklocked.com. If you have been wanting a Klock Werks Device Mount for Victory, Indian, Harley, or Honda, now's the time! This is also the perfect opportunity to get your Christmas shopping done early! For every enthusiast in your life, Klock Werks has something that will make their ride better! Shop specifically by ride at getklocked.com to see what Klock Werks has for your model! Spend $5.00 or $2,000- either way- you're getting 20% off! Grab some new apparel and sticker packs, and stuff those holiday stockings with Klock Gear!
It wouldn't be a complete week without a #FenderFriday! Klock Werks has more profiles for more makes and models than ever before. Klock Werks spares no expense when it comes to producing the highest quality fenders on the market! They are 14-gauge stamped steel, and we utilize a precision, deep-draw stamping technology that ensures a consistently smooth and flawless finish, minimizing bodywork! They are also e-coated to prevent rust and corrosion. Shop by Part at GetKlocked.com to and take $50 off ANY fender!
Klock Werks took the website to the next level, and the Krew is excited for you to check it out! Go to GetKlocked.com to see the daily coupon codes starting Monday, or get it first by signing up for our newsletter. You won't want to miss this. Get on your social media, your cell phone, or your email and share the news! All deals are only applicable while supplies last!