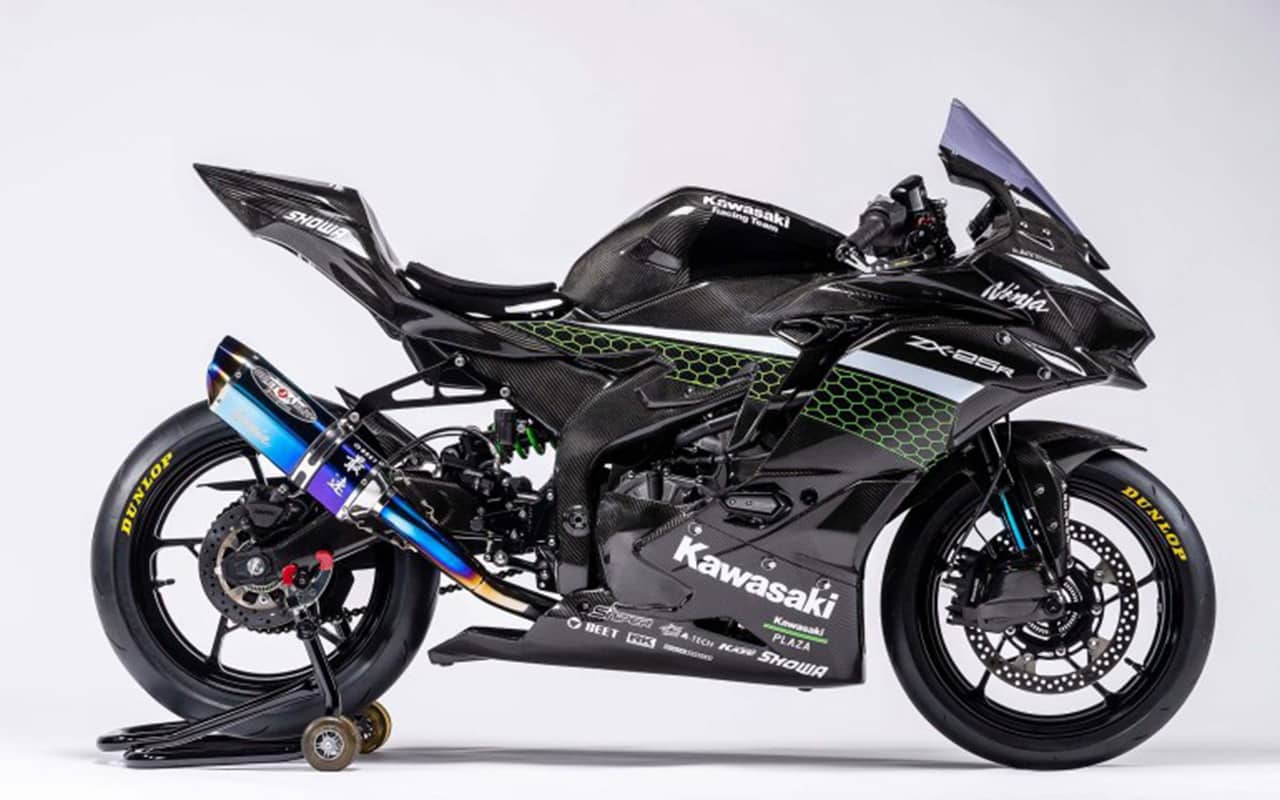 by Abhinand Venugopal from https://www.rushlane.com/
Kawasaki's Ninja ZX-25R Racer Custom is a track-only version of the brand's new 249cc four-cylinder sportsbike
Kawasaki has unveiled the all-new Ninja ZX-25R Racer Custom ahead of its official debut event which had to be cancelled due to COVID-19. The pandemic has caused a lot of confusion among global automotive industries with back-to-back plant shutdowns, event cancellations and rising losses. However, manufacturers have taken social media as an effective platform to introduce their latest products.
Coming back to Kawasaki's latest product, the Racer Custom variant is essentially a track-focused, track-bred and track-only version of the Ninja ZX-25R that was unveiled last year. The sportsbike's main highlight is its power plant — a 249cc DOHC liquid-cooled 'inline-4' engine that can rev up to a cool 17,500rpm!
So far, Kawasaki has not shared the exact engine specifications of the ZX-25R or its track-only avatar. Various reports state that it could generate around 45bhp and a lot of acoustic drama (way more for the Racer Custom variant). In fact, Kawasaki had shared the exhaust note of its new light-capacity four-banger. To many, it wouldn't make any sense to split a displacement of roughly 250cc into four cylinders, but for the very few who likes to ride a motorcycle at its absolute limit (in a safe environment) will find a fun machine in Kawasaki's new ZX-25R.
Kawasaki also plans to introduce a new one-make championship next year with the ZX-25R (and NOT the track-only Racer Custom variant). The race will be open to anyone regardless of their track hours. Meanwhile, Kawasaki has introduced a host of performance and cosmetic upgrades for potential '25R' buyers. This includes racing cowls, tank pad, track tyres (Dunlop Sportmax ?-13SP), Showa suspension, new chainset, performance exhaust, carbon bits and many more.
Sources suggest that Kawasaki's 'baby ZX-10R' will first hit the Indonesian market, after which it will be filtered down to further potential markets in Asia and Europe. India may not get it and we don't expect Kawasaki to make the effort.
Even though the concept of low-capacity four-cylinder motorcycles is relatively unheard among the wider scenario, such motorcycles have been around since the late 20th century. Kawasaki's iconic ZXR250 could be considered as the virtual predecessor of the new ZX-25R. One might find 40-45bhp to be a normal figure in this day and age, but these motorcycles require an expert to harness their full potential by shifting correctly in extremely narrow peak power bands.