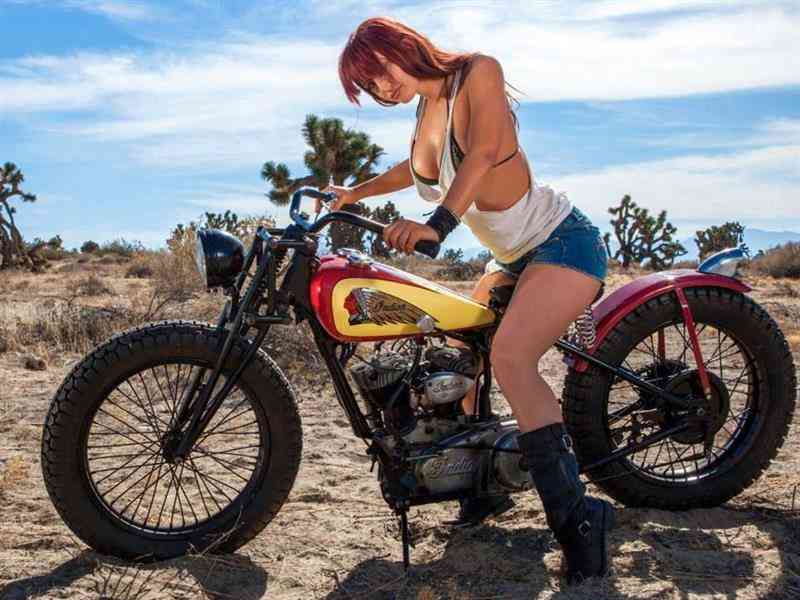 If you keep an eye on yourself you can see your moods change and why.
I'm going to cruise over to Cabana Dans next week. I need to cover his final pieces for his restored 1914 H-D Twin before they head to Tim the Flat Earth pinstripper in Spearfish, SD. I'll sneak into Tim's shop and shoot the action.
I've made serious progress on the VL, XA, FL-5. We made a set of pipes. Next week I will make controls and bring you a complete report.
I received a bicycle GPS speedo for the Salt Torpedo. Snowed the other day and might snow tomorrow. The Redhead is out finding a chunk of metal I can machine for the Knucklehead, so if I'm stuck inside I can still make progress.
I'm working with the Deadwood Historic Society on fixing up the basement under the Bullock Hotel. They want to go with a Vice theme, so I suggested this print of Kat Von D with my touring chopper built with Jesse James.
Join the MRF and stay up on the action, or keep coming back to Bikernet for weekly reports. We will fight for the truth forever.
— Bandit
The Bikernet Weekly News is sponsored in part by companies who also dig Freedom including: Cycle Source Magazine, the MRF, Las Vegas Bikefest, Iron Trader News, ChopperTown, BorntoRide.com and the Sturgis Motorcycle Museum.
* * * * * * * * * * * * * * * * * * * * * * * * * * * *