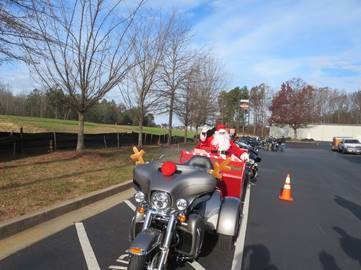 by Regan Spinks from https://accesswdun.com
Motorcyclists with Frazier's Harley-Davidson in Buford will conduct their 32nd annual Toy Ride on Sunday, Dec. 6.
Each year, Frazier's Harley-Davidson collects hundreds of toys and monetary donations to benefit the Chattahoochee Baptist Association's Christmas Hope program, which provides presents for underprivileged children. After collecting the donations, motorcyclists deliver them to the association in their annual Toy Ride.
Approximately 100 motorcyclists will make the journey to deliver donated toys on Sunday beginning at 11 a.m. Many riders will display the donated toys on their motorcycles during the ride.
"The Toy Ride is a great way to make a difference in a child's life this Christmas season," Frazier's Harley-Davidson Owner Bill Frazier said in a statement Thursday.
Upon arriving at the Chattahoochee Baptist Association building on McEver Road in Gainesville, the riders join in an assembly line to bring all the toys into Santa's Workshop. Frazier's Harley-Davidson officials said that the Toy Ride is a great opportunity to feel the holiday spirit.
"Without the help of Frazier's Harley-Davidson, this program would not be nearly what it is today," said Wanda Oliver of the Christmas Hope Program. "It is so exciting to see and hear all the motorcycles coming in."