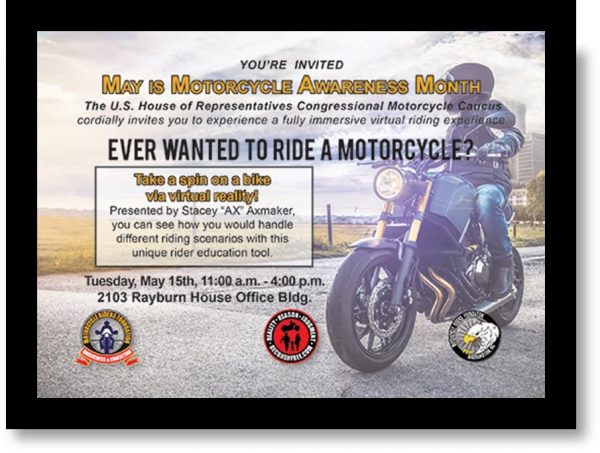 Friends & Colleagues:
I wanted to pass along an invitation to you. The Motorcycle Riders Foundation has been working with the Congressional Motorcycle Caucus on a 'unique-for-Washington' event happening next month. Coinciding with our Advocacy Day/Ride-In, Stacey "Ax" Axmaker, a motorcycle safety professional and founder of BeCrashFree.com will be offering an interactive demonstration of his unique and fully-immersive motorcycle riding experience. Using Virtual Reality Technology, attendees will have the ability to try out various two-minute riding scenarios in order to experience different motorcycle riding situations such as night riding, group riding, lane filtering and others. No license required. 😊
I hope to see you there!
Megan Ekstrom
Vice-President, Government Affairs & Public Relations
Motorcycle Riders Foundation
202-725-5471
The House Motorcycle Caucus Invites You to Experience Virtual Reality Motorcycle Riding with Stacey "AX" Axmaker
WHY: To experience really cool Virtual Reality technology and engage with fellow riders and motorcycle enthusiasts!
WHAT: Motorcycle Virtual Reality Riding Experience
WHEN: May 15th from 11:00am – 4:00pm
WHERE: RHOB 2103
Comments
comments