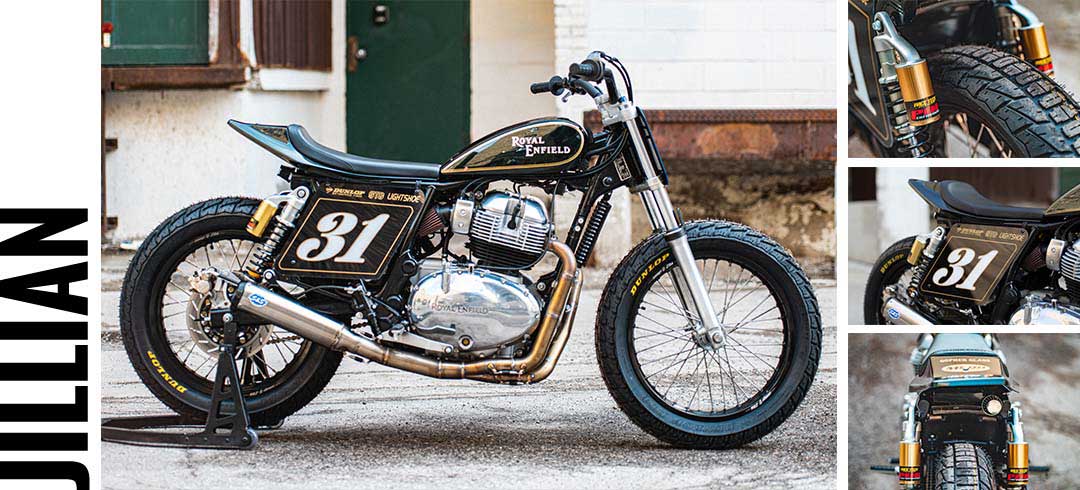 This Month Has it All – Ready to Dive in?
Summer's here and so are the Races.
It's time to finally introduce you to the ladies of Build.Train.Race. Road Racing, as we expand yet again. This month will be jam-packed with celebrating these ladies' hard work, the debut of their motorcycle builds at MotoAmerica at Road America June 11th-13th, & get them ready for their first race at the end of July in Brainerd, Minnesota.
The weekend is kicking off with the official reveal of the custom Continental GT 650s at the Moto Union X Royal Enfield Open House at Moto Union in Milwaukee, Wisconsin. Join us Thursday, June 10th from 5-7pm to see the bikes & meet the riders. With a special appearance by professional road racer & MotoAmerica crew chief Melissa Paris, live DJ, a chance to win free MotoAmerica tickets & more!
Flat Track Racing
The ladies had a great time in Texas unveiling all their hard work during the build phase. They were even more excited to hit the track for the first time at the Chicago Half-Mile. Catch up with all that's been happening now! Then get ready because the next race is almost here – High Voltage Races in Elkhorn, Wisconsin is June 6th.
ROYAL ENFIELD JUNE SCHEDULE OF EVENTS
B.T.R. ROAD RACING
June 4th & 5th | Belding, Michigan
The ladies put their motorcycles through their paces for their first official practice session at Grattan Raceway.
ROYAL ENFIELD SLIDE SCHOOL
June 4th & 5th | Verona, Wisconsin
Johnny Lewis & Moto Anatomy are showing you how to get sideways at S&S Cycle Speed Ranch. Grab your spot!
B.T.R. FLAT TRACK
June 6th | Elkhorn, Wisconsin
Whose taking home the checkered flag this round? It's sure to be a great race.
MOTO UNION X ROYAL ENFIELD
June 10th | Milwaukee, Wisconsin
Come out to Moto Union X Royal Enfield Open House to see the B.T.R. Road Racers reveal their builds, win free MotoAmerica tickets, & more!
B.T.R. ROAD RACING DEBUT W/ AT ROAD AMERICA
June 11th – 13th | Elkhart, Wisconsin
This is it, the ladies of Build.Train.Race. are taking to the track for their first official MotoAmerica race of the 2021 season. The weekend is packed with things to do – get your tickets now!
AMERICAN FLAT TRACK
June 26th | Lima, Ohio
Moto Anatomy Powered by Royal Enfield with rider Johnny Lewis is back at it and ready to take home the win. We hope to see you at the track. Get your tickets now!
JUST ANNOUNCED! ROYAL ENFIELD AT FULL IMS TOUR
July – November
Curious about how the new Meteor 350 takes to the road or still haven't been able to stop thinking about a Twin? You're in luck! Royal Enfield will be at every stop for the IMS Show 2021 which means a demo ride is waiting for you. So which stop will we be seeing you at?