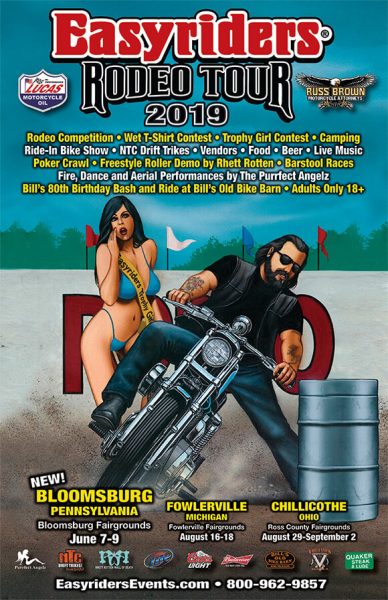 It's the original biker campout from Easyriders Magazine! Come enjoy a weekend of camping, live entertainment, awesome vendors, food & beer and your classic motorcycle rally games in Bloomsburg, PA this weekend, June 7-9. Be a part of the fun – you don't have to be a pro. Sign-up onsite to participate in our rodeo favorites from the wienie bit to the sled pulls and compete for cash and bragging rights! The first rodeo event is FREE with your weekend wristband! It's sure to be the highlight of the summer! 18+ only. All tickets are sold at the gate.
Come join us for Bill's 80th birthday bash and ride starting at Bill's Old Bike Barn with procession to the Easyriders Rodeo in Bloomsburg, PA Saturday June 8. You can purchase tickets at Bill's Old Bike Barn Saturday from 9am to11am. Tickets are limited. Starts at 9am. Ride to the Easyriders Rodeo leaves at 12:30pm. The cost is $40 per person which gets you into Bill's 80th Birthday Bash, Entry into Bill's Bike Museum. Bill's Old Bike Barn is a true collection of vintage motorcycles and Americana memorabilia that you just have to see for yourself! Rhett Rotten Wall of Death, A Saturday midway pass into the Easyriders Rodeo and all the events which include: barstool races, rodeo competition, vendors, ride in bike show, food and beer, wet t-shirt contest, cornhole competition, poker crawl, kick start contest, live music by Saliva, Starve The Beast, The Bayou City Outlaw Band and South of Southern. Fire, dance and aerial performances by the Purrfect Angelz, freestyle rollers demonstrations, an Easyriders Rodeo commemorative run pin, and more!! Or come camp out for the weekend, we have lots more going on!
So jump on your ride and come party with us in Bloomsburg! It's sure to be a great time!