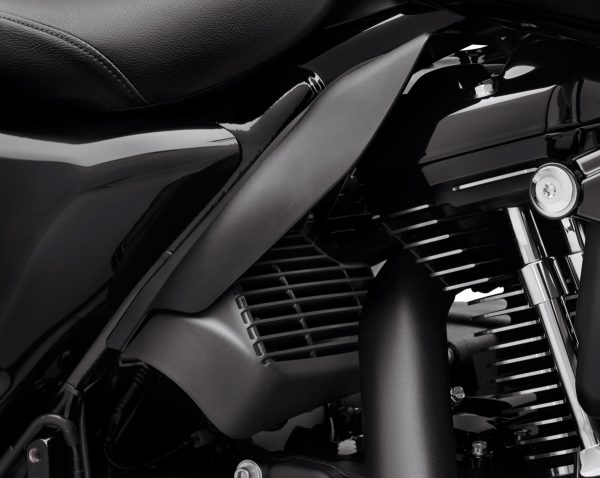 Harley-Davidson's CoolFlow Fan is engineered to maximize rider and passenger comfort in high-temperature situations such as rush-hour traffic, or extreme temperature environments. Unlike traditional fan kits that try to cool the engine by blowing air across the cylinders and often onto the rider's legs, the CoolFlow Fan keeps riders comfortable by drawing heated air away from the rear cylinder and exhaust pipe and directing it toward the ground.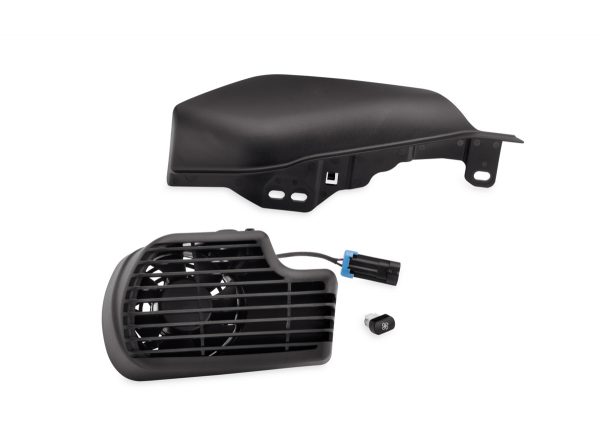 The CoolFlow Fan features switched On/Off/Auto operation. In the On mode, the fan is active at low speeds, and will turn off when motorcycle speed reaches 40 mph. As speed lowers, the fan turns back on at 35 mph; this gap is intentional to prevent the fan from cycling on and off when riding close to 40 mph. In the Auto setting, the fan operates based on a combination of slow vehicle speed and specific engine and ambient temperatures. Fan function is indicated in the odometer. The CoolFlow Fan is waterproof and designed for durable performance. A dealer Digital Technician update (priced separately) is required to complete the installation, and installation on some model may require additional components. There is a CoolFlow Fan designed specifically for each 2017 Harley-Davidson Touring and Trike model motorcycle. See an authorized Harley-Davidson dealer for fitment details.
You can get the CoolFlow Fan at over 750 authorized retail locations in the United States and online. Go to www.h-d.com to find out more.