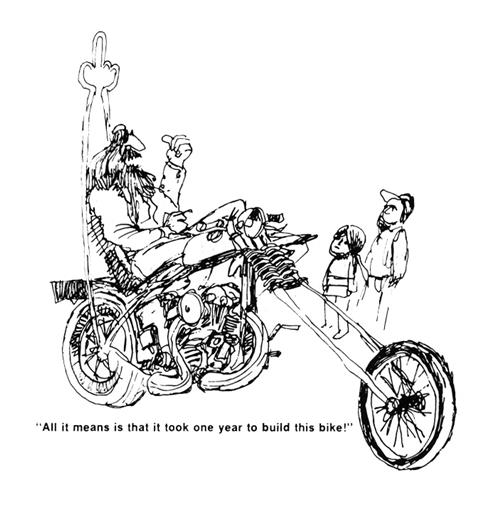 The chopper, set up to ride, had over an inch of travel in the sprung seat, rubber grips and pegs, rubber mounted risers and bars. The engine, factory balanced had an Andrews cam, Branch heads, tuned exhaust and the oil level was checked. It rocked, like a bullet in the night, slicing through the dark hillsides. The 5-speed trans was classic and battleship strong with a freshly oiled chain drive to the rear wheel.
As Bandit blasted out of the hills along mildly bending curves surrounded by forest, streams and lakes, his mind whirled with thoughts of how to handle the issue ahead, as he stared into the darkness, while surrounded with the wafting smell of Jack pine trees. Difficult, but not impossible, he endeavored to shift his thinking to his first wife and how he loved the ride from a heavy cruiser in San Diego to Long Beach and her soft side on his first Harley, a Sportster. She was amazing in so many satin ways. Her lips, her thighs and those magnificent tits he could lie against and admire for days. And no other woman in his life was ever as responsive.
Join the Cantina – Subscribe Today.