Jurisdictions around the world last week began reducing the use of speed cameras in light of the pandemic.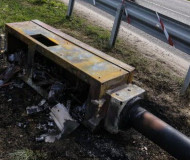 Motorists around the world are calling on local governments to suspend the use of automated ticketing machines as the public deals with the coronavirus outbreak. Providence, Rhode Island, responded by shutting down its "school zone" photo radar program while the schools themselves are closed during the pandemic. By contrast, officials in New York City, New York, have rejected the call to shut down the school cameras while no schools are in session. Similarly, Newburgh Heights, Ohio, has been stationing police officers on the overpass of Interstate 77 to dish out fully automated $150 tickets to unsuspecting motorists passing by below.

A few jurisdictions around the world have begun to respond to the call to reduce camera usage. West Flanders, Belgium, has drastically reduced the use of speed cameras at the request of the chief prosecutor. In Oristano, Italy, local police announced on March 16 that the use of speed cameras was suspended until further notice. In Leon, Spain, mobile speed camera use is likewise suspended, while fixed photo radar installations and red light cameras will continue to generate automated citations.

In France, jurisdictions have dramatically reduced the number of mobile speed camera traps, according to the experts at radars-auto.com. Road traffic has dwindled because of the quarantine measures, but most of the fixed speed cameras are operating as they did before the pandemic. In Thionville, vigilantes cut down and torched a turret-style, pole-mounted speed camera on March 15. The day before, in Silly-en-Gouffern, the speed camera on the RD926 was blinded with a coat of red spraypaint.
–TheNewsPaper.com
–from the National Motorist Association