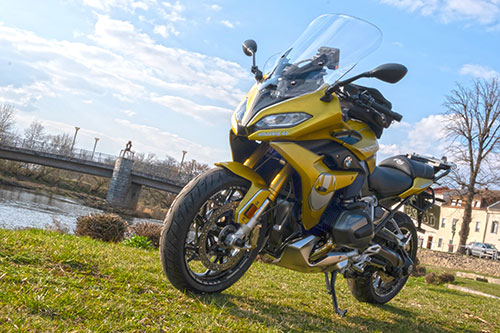 BMW R1250RS conversion by Hornig – Sports tourer on a new level
What do you expect from a sports tourer like the BMW R1250RS? Overall, a coherent and perfect combination of tour comfort and sporty influences. Due to our conversion, the motorcycle reaches a new level when travelling as well as during race track training.
BMW R1250RS conversion by Hornig
(press release and printable pictures)
http://www.mhornig.com/Company.html?newsid=432
Handlebar Risers with Offset for BMW F900R & F900XR
Raising the handlebar by 30mm results in a more upright, much more relaxed seating position. Moreover, the handlebar is brought 25mm closer to the rider which additionally improves driving comfort. The handlebar riser also makes riding while standing less tiring, which is of tremendous benefit to taller riders in particular. The overall result is a noticeable increase in stamina and concentration. Long stretches on the motorway are less nerve-racking, and even fast, difficult off-road sections are easier to handle.
Easy to fit in minutes. No need for long cables or brake cables! Fits on original handlebar.
Handlebar Risers with Offset for BMW F900R & F900XR
99,90 Euro up (incl. VAT) plus shipping
(press release and printable pictures)
http://www.mhornig.com/Company.html?newsid=433
—
Facebook:
https://www.facebook.com/Motorcycleparts.Hornig
YouTube:
http://www.youtube.com/user/MrHornig
Instagram: hornig.motorcycle.parts
https://www.instagram.com/hornig.motorcycle.parts/
—
Your readers could also be interested in:
BMW R1250R conversion by Hornig – amazingly different
http://www.mhornig.com/Company.html?newsid=430
GPS Mount for BMW F900XR
http://www.mhornig.com/Company.html?newsid=429
Side stand foot enlargement for BMW F900R & F900XR
http://www.mhornig.com/Company.html?newsid=428
Lithium battery and battery charger for BMW motorcycles
http://www.mhornig.com/Company.html?newsid=427
Kind regards,
Motorcycle Accessory Hornig GmbH
Gewerbepark Chammünster Nord C 5
D93413 Cham
Germany
http://www.motorcycleparts-hornig.com
CEO: Hornig Helmut
Regensburg HRB 10330
Ust.Id.Nr. DE251397246
Fon: 0049 9971 99 66 10
Fax: 0049 9971 99 66 110
Facebook: https://www.facebook.com/Motorcycleparts.Hornig
YouTube: http://www.youtube.com/user/MrHornig