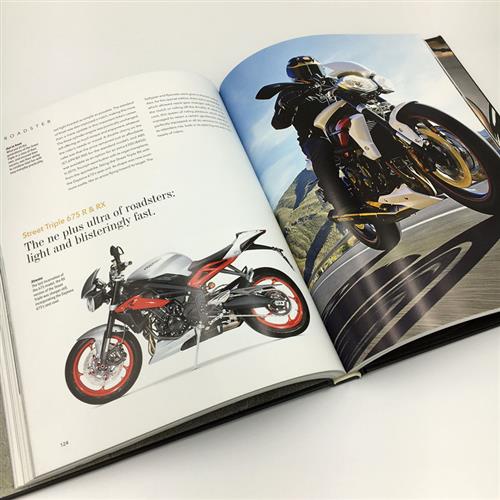 The story of the Triumph motorcycle is one of great history, fortitude, mistakes, and successes. Triumph the Art of the Motorcycle does an excellent job of taking one from inception through today. Covering all the production and racing models you get a clear view of what Triumph is and has been about. The great engineers and different design companies that have weighed in on making Triumph stand apart from the rest is all covered. For instance, did you know that Lotus (British car manufacturer) provide input on the design of the Daytona T595 engine.
I am not going to go into the story as I cannot do it justice or even give you a glimpse in this review. What I will tell you is, this book is wonderfully laid out and for a coffee table book it hits the mark. Anyone can sit down and open the book to a random page and get a complete story a snapshot of Triumph. Stunning photography and concise short stories make it easy to pick up and enjoy. But if you spend some time as I did you will get a complete chronological history of the company, the individuals that made it happen and the motorcycles they brought to life. You will understand the passion behind the bikes.
The photography is spot on and lets you enjoy the beauty and design of these motorcycles. Triumph has always tried to stay true to its heritage and this is shown through the progression of styles and design phases. I enjoyed learning about the different engine configurations and the tweaks Triumph could do to make the same basic engine perform in a multitude of applications. Little changes like carburetor throat or head compression can change an engine from a cruiser to a high performance race machine.
Click here to read the full review.