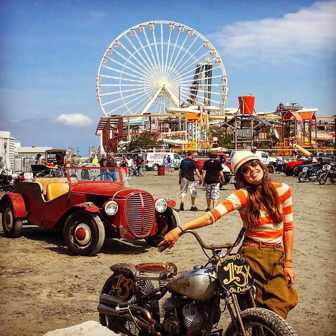 Avon Motorcycle Tyres North America will sponsor vintage motorcycle racer and Spirit of Sturgis Vintage Festival organizer Brittany Olsen throughout 2017. Olsen started the year right with a win at Billy Lane's Inaugural Sons of Speed Vintage Races in Daytona, Florida, and will ride her 1923 Harley-Davidson Board Track Racer outfitted with Avon Speedmaster-MKII and GP tires at various events throughout the United States.
"Brittany brings amazing energy to every race and event," said Ken Warner, Vice President of Marketing for Avon Tyres North America. "We are proud to partner with her and look forward to the excitement that her passion for vintage racing will undoubtedly produce this year."
The Speedmaster-MKII is a classic ribbed front tire and is available in street and race compounds. It features a curved tread profile and tread pattern typical of classic bikes. Olsen will also be running on the Avon GP race tire at select events. Both tire lines are constructed of modern rubber compounds to deliver enhanced durability and performance.
For more information about Brittany Olsen, visit www.facebook.com/20thCenturyRacing