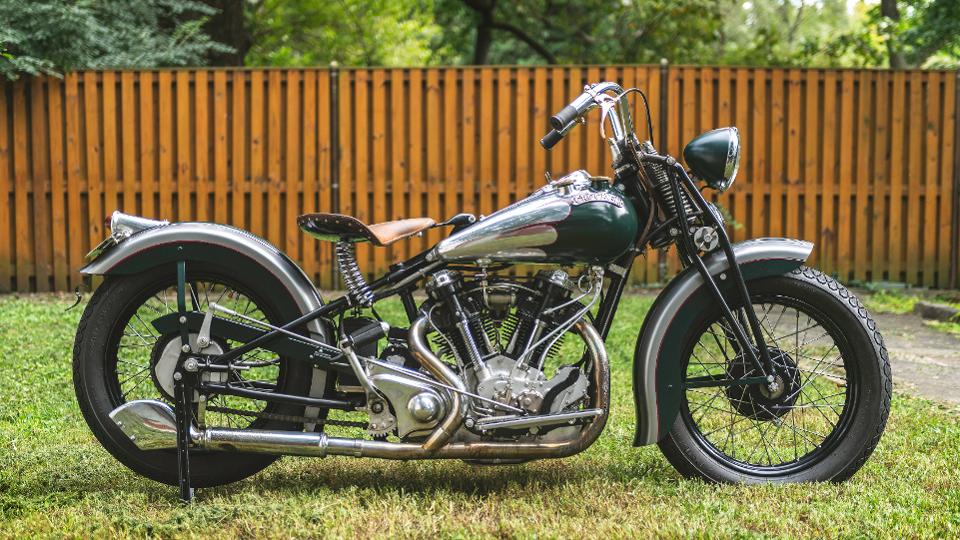 by Andrew Wendler from Forbes Staff www.Forbes.com
Though the name "Crocker" may not resonate among the non-initiated as readily as Harley Davidson or Indian, enthusiasts recognize Crocker motorcycles as some of the most desirable and powerful bikes of the pre-war era.
Founded by engineer and former Indian dealer/distributor Al Crocker, the brand saw its first success with the Speedway, a single-cylinder bike that quickly became a favorite of west-coast racers. Encouraged by his success, Crocker sold his Indian dealership in the mid 1930s and established the the motorcycle company at 1461 Venice Boulevard in downtown Los Angeles . Leading off with the "Small-Tank" Crocker in 1936, Crocker followed up with the "Big Tank" model in 1939.
Frequently built to customer specifications, several examples came equipped with a 91 cubic-inch v-twin engine (1491 cc) that helped the Big Tank earn its reputation as the fastest bike of the era. According to folklore, Crocker reportedly advertised that if a customer's Big Tank v-twin was beaten by a stock Harley Davidson, he would refund the owner's money. No record exists of a refund being issued. Often referred to as the Duesenberg of Motorcycles, the Crocker Big Tank is undeniably American.
Large and brash, the bike incorporates numerous aesthetic and functional design disciplines of the era, displaying both aviation and marine overtones in its design and construction. No attempt is made to hide the mechanical bits; from the bicycle pedal kick-starter to floorboard-style footrests and from the exposed fuel and oil lines to the tank-mounted shifter, functionality and elegance exist in harmony. Often, it's this tangible and endearing characteristic that separates merely rare motorcycles from the truly desirable and significant ones. That said, most experts agree that fewer than 30 Crocker Big tanks were built.
This 1940 Crocker Big Tank on the block at Barber features reasonably well-documented history, although it has seen a significant amount of reconstructive surgery. Reportedly the personal bike of one-time Crocker employee and machinist Elmo Looper, the bike eventually found its way to Jungle Jim's, an L.A. scrapyard where it was eventually purchased and saved from the crusher sometime in the 1950s. After passing through a series of owners, the bike made its way to the East Coast, where the current owner undertook a restoration process that consumed nearly 15 years. The frame is spliced with a donor frame, the front forks, gas and oil tanks and fenders are careful reproductions, and the engine and gearbox were rebuilt by vintage bike savant Mike Lang.
Pre-auction estimates suggest the Crocker Big Tank V-Twin will command between $495,000 and $595,000 U.S. when the hammer falls.